Taking a dip in oceans, lakes or rivers – whatever the weather – gives a health kick unlike any other, awakening senses and delivering a huge host of health benefits. This is why open water swimming is the new favourite pastime of so many people.
Open water swimming means swimming among nature. It could be in the sea, in a lake, in a river, canal, loch or reservoir: if you can't easily measure how big the expanse of water is (unlike a swimming pool) it's classified as open water.
Open water was our only bathing option for thousands of years, so the idea of open water swimming isn't exactly new, but it has gained a new popularity during the pandemic when swimming pools and lidos were forced to close.
Outdoor Swimmer magazine even estimated in January this year that participation in open water swimming in the UK had increased by between 150-300% since 2019, whilst membership of the Outdoor Swimming Society grew by 36% in 2020,[1] and this is just in the UK. Anecdotally the growth in popularity of open water swimming has been an international phenomenon over the past 18 months.
What's so awesome about open water?
Sophie Ford, 38, started open water swimming on the River Wey in England in October 2020 and says the effect of a regular cold swim has been transformative to her life.
"I generally go twice a week but I would go every day if I could," says Sophie, who is a mother of three children and runs an interior design company.
"I haven't looked up anything scientific about it, I just know it makes me feel better. If I feel stressed and overwhelmed by work, a cold swim is the best way of sorting me out. If I don't swim for over a week, I really feel it and I think 'I've got to go in the water.'"
The health benefits of exercising in cold water are well established. That shock you feel when plunging your head under a cold shower is multiplied when going open water swimming, activating endorphins – the chemical in our brains which makes us feel good during exercise. Endorphins give us a natural high, helping to combat stress and even depression.[2]
Furthermore, experiencing cold water makes our heart pump faster, which, combined with the physical exertion of swimming, flushes our veins, arteries, and capillaries with blood, improving circulation, whilst at the same time burning calories.[3]
On top of these benefits, cold water is good for your immune system as your body is forced to react to changing conditions, boosting your white blood cell count.[4]
In addition to the physical benefits, your spiritual side is in for a health kick too.
As Sophie puts it: "In the middle of winter, I said to my swimming partner 'why are we still doing this, what is that makes us keep coming back?' We both started because of the health benefits but both of us agreed that it was the sense of adventure, being outside in nature, that was just as important to us.
"Every day the river looks different, whether that's a different flower on the bank, the way the light hits the water, or what the weather is like – we love swimming in the rain for example."
As hobbies go, open water swimming is extremely affordable. The start-up costs are negligible, however it's wise to prepare an after-swim bag that includes plenty of warm clothes and a hot drink.
For those people looking to swim in very cold water, or for a long time, it might be worth investing in a wet suit but simply experiencing the thrill of an open water swim is free for everyone.
Swimming can often be seen as a very solitary sport yet open water swimming needn't be.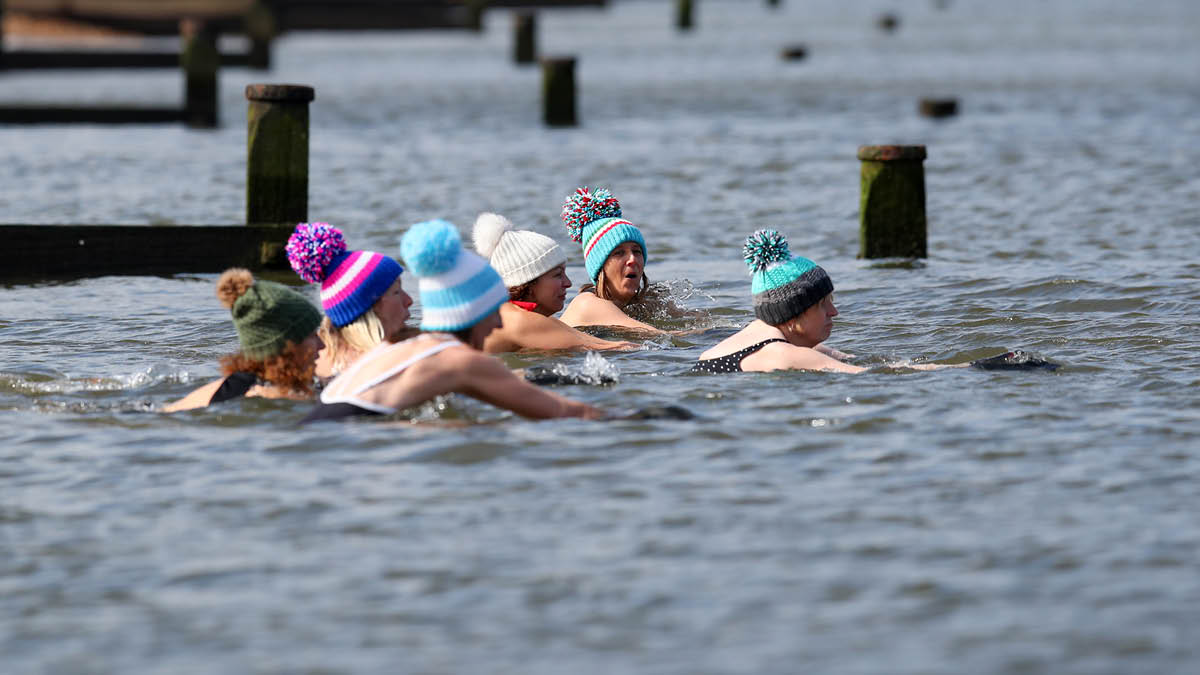 As Sophie says: "The group element for me has been absolutely amazing. Until I started swimming, I hadn't met a random group of people since I was young when you start taking up hobbies. I started swimming with my friend Joe but now we're in a WhatsApp group of 15 people. Every time we went we would see someone else doing it, so we started building a bit of a group. Now we try and all meet every Friday at seven o'clock in the morning but we also message each other during the week saying 'I fancy a swim, does anyone else want to go?' and doing it like this means we can all go more regularly because it is safer not swim on your own. Before I had to rely on just Joe but now I can just go with anyone in the group."
Other safety pointers to note when open water swimming are to be aware of currents and tides if swimming in the sea, and to not swim in a river flowing faster than you're sure you can handle. It's also important to enter the water slowly to allow your body to acclimatise to the temperature. You should never dive straight in.[5]
Swimming globally
Through the power of social media, open water swimming groups can expand well beyond a local stretch of water. The Bluetits Chill Swimmers, for example, started in 2014 as a small group of passionate swimming friends in Wales, but have grown into a global community of 6,000+ members, who are split into local 'flocks' – or groups – based in Europe, North America, Australasia and Africa. Each 'flock' is an informal group connected via Facebook which anyone can join (there are no membership fees), and through which anyone can organise an open water swim.
With community events having been sidelined by the pandemic, open water swimming groups like Sophie Ford's and the Bluetits have helped fill a social gap for many swimmers. And it feels like its popularity is here to stay. After so much time inside over the past 18 months, we all have a new appreciation for the great outdoors, however cold it may be.
If your organisation is looking for business health plans, check out our solutions.
[1] BBC - Why wild swimming is Britain's new craze
[2][3][4] IPRS Health – 8 benefits of cold water swimming
[5] RNLI -pen water swimming