Moving To Thailand
A beautiful country in tropical climes, it's no wonder that Thailand is referred to as the Land of Smiles. The country certainly has an interesting history, unique to the Far East it is the only country that has never been colonised by Europeans – great past leaders encouraged the Thai people to have a great sense on national pride.

Added to this, the culture of Thai Buddhism instils great generosity and giving, coupled with strong social hierarchy and a deeply spiritual connection with the past.

It's maybe for these reasons that the country is now so popular as a tourist destination, and, once visited, many choose to return again and again, increasing popularity with expats from around the globe.

In fact, being an expat in Thailand is nothing new – think 'The King and I' and you're transported to Siam in the 1860s where Anna Leonowens was governess to the children of King Mongkut. The expat community has grown somewhat since then and Thailand is becoming ever more popular as a relocation destination for those looking to start an expat life in the Far East.
Getting A Visa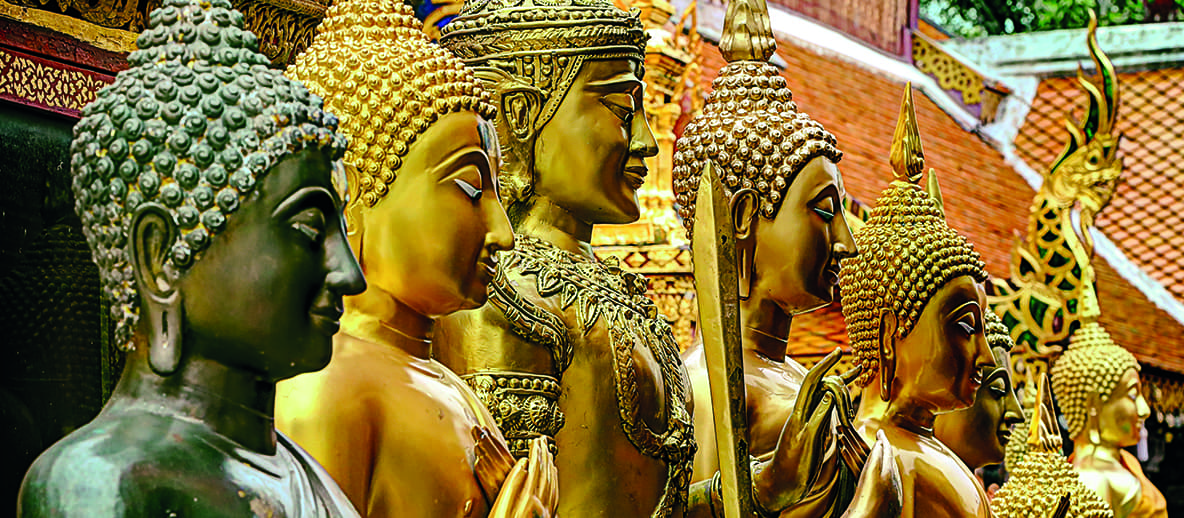 When moving to Thailand, you'll need to get a visa – a requirement by Thai Immigration Law.

Most people who move to Thailand do so with a tourist visa (valid for 60 days) or a non-immigrant visa which is initially valid for 90 days and which will then need to be extended through Thai Immigration.

Typically, a short term extension of stay is granted up to 30 days for tourist visas or non-immigrant visas, while if you need to extend your stay for longer, on a non-immigrant visa it's possible to apply for an extended stay for one year, for the following purposes:
Business
Education
Marriage
Retirement
Both the tourist and the non-immigrant visa can be issued by a Thai Embassy or Consulate outside of Thailand, while extensions are issued by Thai Immigration in the country itself.

Whichever visa you need, it's always a good idea to check with the Thai Embassy for the latest information and requirements before applying.

The types of visa that can be issued by Thai Embassies or Consulates include:
Thailand tourist visa This visa cannot be used for business or employment purposes. It allows an initial stay of up to 60 days, which can then be extended for another 30 days.
To be eligible for this visa, applicants will need to hold the following:
A current passport with validity of over 6 months beyond the date of application,
At least 2 blanks pages in their passport
A completed visa application form [1]
Thailand business visa
When you are employed or sponsored by a Thai company you can obtain a business visa, which allows a stay of up to 90 days for a single entry or one year for multiple entries. [2]
To be eligible for this visa, applicants will need the following:
No criminal record
A good education background
A viable business plan in place, including business turnover, financial resources, etc. [3]
Thailand student visa
If you're going to study in Thailand, this visa allows a stay of up to 90 days for a single entry or one year for multiple entries. Students will need to provide official documents before and after their application for it to be completed.
Examples of these documents include, a letter from the university/school, evidence that they have enough funds to pay the tuition fee and living expenses during their stay. There are also restrictions on part time work with this visa.

Thailand retirement or marriage visa
For those over 50 years old who wish to retire to Thailand or people marrying a Thai national, this visa again allows a stay of up to 90 days for a single entry or one year for multiple entries.
There are also financial requirements with this visa and applicants will need to provide evidence that they have enough funds during their stay.
For those applying for a marriage visa, a copy of the marriage certificate and proof of a genuine relationship between the applicant and sponsor will need to be provided.

Thailand work visa
This type of visa is needed if the applicant has already been offered a job by a Thai company or employs himself/herself to work in Thailand. Remember that before a Thailand work visa can be issued, applicants must have a non-immigrant visa first.
Moving To Thailand – All Angles Covered
With a very different culture and infrastructure to the UK, making sure all angles are covered when moving to Thailand makes good sense. From your visas, the food you'll eat through to making sure you're covered with healthcare being prepared can help to ensure a low stress, successful emigration experience.
Continue reading
For more advice on moving to Thailand, visit our Thailand country guide.
Sources
http://www.thaiembassy.org/london/en/services/7742/84451-Tourist-Visa.html
https://www.siam-legal.com/thailand-visa/business-visa-thailand.php
https://www.siam-legal.com/Business-in-Thailand/thailand-work-permit.php