Amanda moved from the UK to Dubai in 2018. In 2020, she moved from Dubai to Glasgow, Scotland.
In this interview, Amanda reflects on her time as an expat and offers some advice for those considering a move abroad.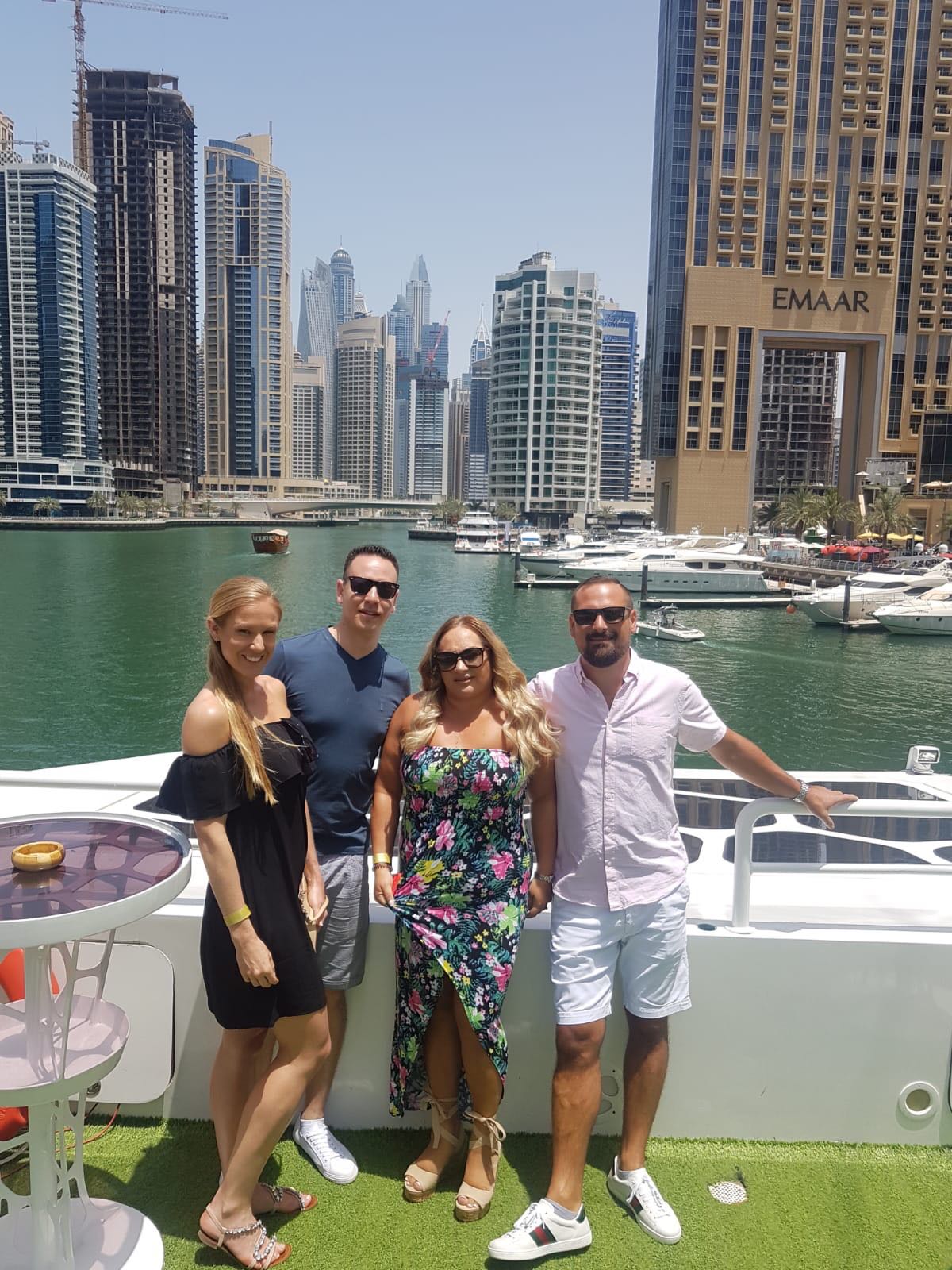 Tell us about your expat move.
I was working at another health insurance company and I saw a role advertised on LinkedIn for a job at Cigna. I knew that the role was a lot less junior than what I was doing, but I wanted to work for Cigna.
So I reached out through LinkedIn and had some conversations with the agency who were advertising the role. I told them that I wanted to work for Cigna and explained that I had experience in the industry. The agency got in contact with the person who was recruiting for these roles and he explained that I was looking for a more senior position. At the time, they were also looking for a new head of SME (Small and medium-sized enterprises) in the Middle East.
So after various conversations, it took about 6 months from the initial conversations to me actually moving out to Dubai and starting the job. I joined as head of SME and after a year, I moved over to the DFIC and was heading up the sales teams as the lead there.
I wanted to work on the individual side of the business again due to my previous experience. But I wasn't expecting it to happen so soon. So I moved over to the individual side of the business in September 2019, and in April 2020, I moved over to the European business. So it has certainly been a bit of a whirlwind experience over the last 2 years since I've been at Cigna!
How much did you enjoy your time living in Dubai?
I would say that working with people from so many different cultures was a really incredible experience. Dubai is a great place to live and the life out there is fantastic. Everything is at your fingertips, you can order a chocolate bar and it'll be delivered to your door within 30 minutes!
So the Dubai lifestyle is great. I think the attitude out there is to work hard and play hard. Work-life balance tends to lean more towards the work side of things but I loved it!
I really enjoyed the fast-paced lifestyle in Dubai and there was also a very social aspect of it that was great. It was completely different to anything I'd ever done, but the experience was pretty incredible!
Was there anything that you missed about living in the UK when you were over in Dubai?
The seasons. In Dubai, the weather is either hot or really hot! So I missed the different seasons back in the UK. I also missed the food back home to be honest!
What advice would you give to those who are considering making an expat move?
I think you certainly need to have a job lined up before you move. Especially in Dubai, the job market is very tough. So I would say you should try to get a job before you move. Also, try and get an idea of the areas that you want to live in. That's what I did before I went.
I also went on a few different expat community sites online and that was really helpful. I would suggest doing that! So to sum up, I would say definitely do your research before you go and try and have a job lined up.
On the work side of things, how much do you enjoy your role in Cigna?
I love my role! What I love about it is, I love to be around people and I get my energy from other people. One thing I would say about the people I worked with in Dubai was that they were always full of energy.
I think different cultures bring different energies and that's what I enjoyed. I just wish I'd made the expat move sooner rather than later.
I'd also say that the people that we have at Cigna in the Middle East are very enthusiastic and very passionate. I didn't meet anybody working for Cigna in the Middle East who gave less than 100%.
Would you recommend an expat move? And would you recommend an expat move to Dubai?
I absolutely would 100% recommend an expat move. I would also say, don't leave it too late, if it is on your mind and you are thinking about it, then go and do it!
For Dubai, I would also recommend it. But, I wouldn't say it is a permanent place for moving to. It is a very transactional place and people do come and go over there quite a lot. But the experience you get over there, considering there are so many expats living there, is really worth it.
In Dubai, the expat culture is probably bigger than any other place in the world. If you want diversity, Dubai is the place!
I would definitely consider doing an expat move again. Now that I've done it once, I would consider doing it again, somewhere else.
Finally, how would you describe your expat journey in 10 words or less?
A fun, challenging, incredible journey with many brunches!
Expat Stories