To better understand the issues employers face in the new environment, Cigna surveyed almost 9,000 people across the world* about their worries, their current state of health, and the support they need to live healthier lives.
Feeling the bite
Inflation and the rising cost of living are top of mind for most people around the globe. Skyrocketing energy prices, rising grocery bills, and sluggish economies are contributing to lower household incomes and enormous uncertainty, causing stress levels to mount and mental and physical health to decline.
37% of respondents to our latest survey said the inflation crisis is their biggest worry, with that figure as high as 47% in Singapore, 46% in the United Kingdom, and 45% in the United States. Meanwhile, only a third said their financial situation is good, with most people at almost every income level now worried about their finances.
The majority (58%), are not even confident in their ability to meet day-to-day costs, such as rent, food, and energy, while 67% say it is difficult to pay for things like hobbies or a family holiday. A sizeable proportion of global respondents also said they are now having to make financial sacrifices for the future, particularly for retirement. Only 29% said their ability to save is good, and 66% said their financial security in case of an emergency is low.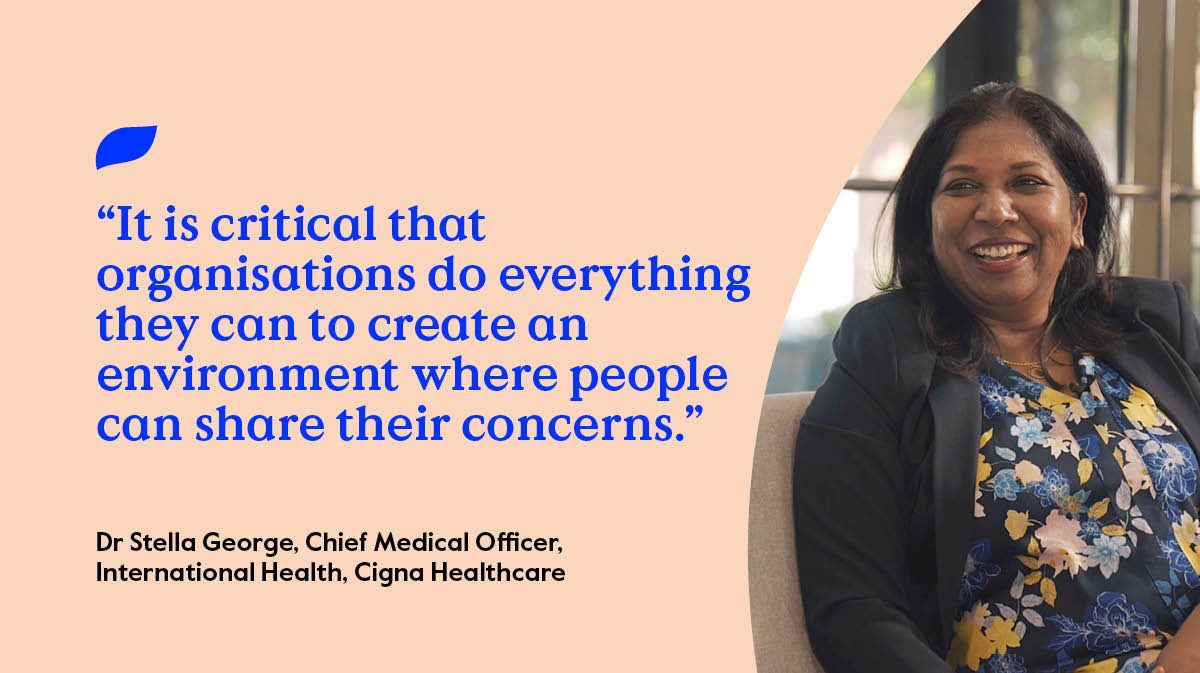 Dr Stella George, Chief Medical Officer, International Health, Cigna Healthcare, notes that the affordability crisis impacts almost all facets of life:
"Concerns about being able to afford food and other essentials are having a huge impact on people's well-being, and this will also impact people's performance at work," Dr George said. "It is critical that organisations do everything they can to create an environment where people can share their concerns, and that they listen to their employees on how work can best be structured to support them."
A looming health crisis?
A troubling consequence of this rising stress wave is its impact on physical health. Access to healthcare is now the second highest concern for people globally, with 65% saying they struggle to afford to stay healthy, whether that be paying for adequate healthcare or well-being activities such as a gym membership or holidays. Young people are more heavily impacted by financial pressures, with 73% of 16–24-year-olds feeling that rising costs are making it too expensive to stay healthy.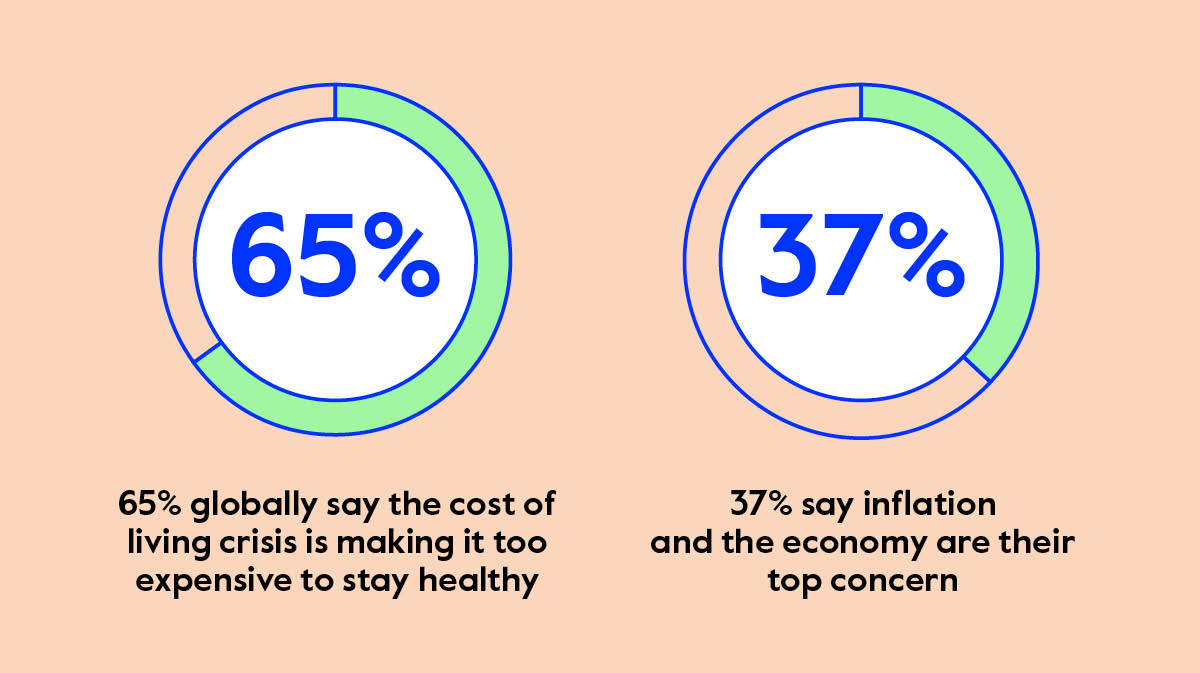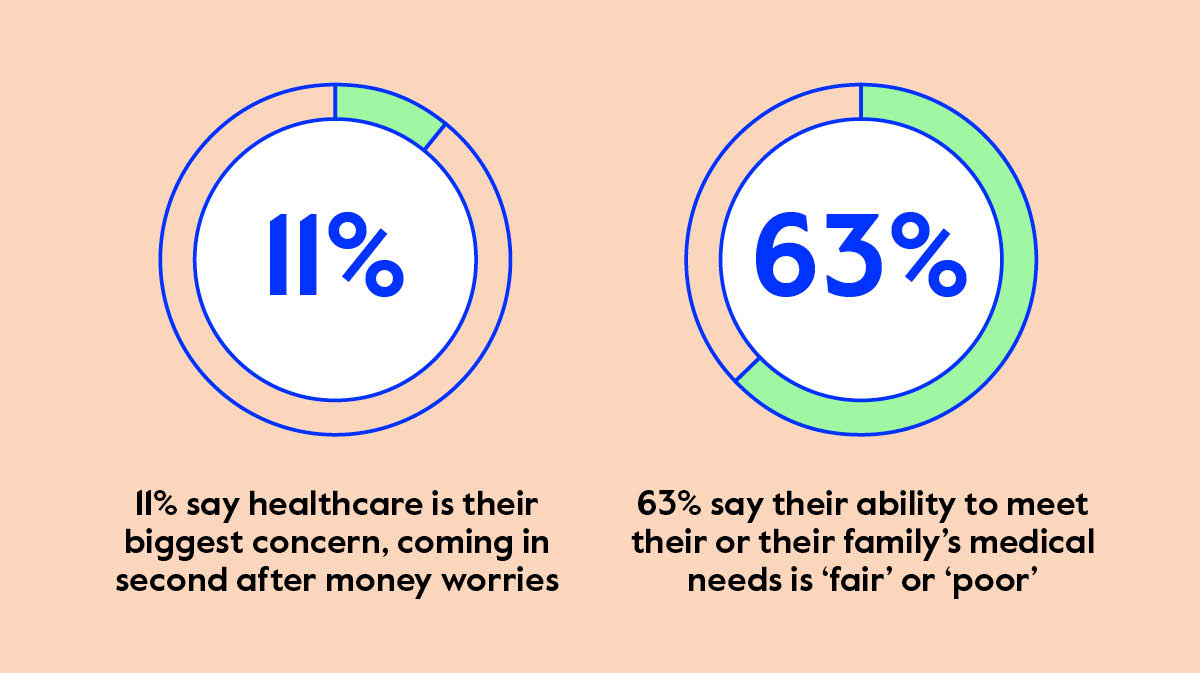 Dr George commented: "Employers can make an immediate, tangible difference. This isn't just about paying for gym membership or in-office yoga sessions, it's about creating a culture where people can openly talk about their well-being needs and can act on them."
Failure to tackle this will have a detrimental impact on companies' workforces and on society more broadly, making action to bolster employees' health security a fundamental ESG imperative. Beyond that, mental well-being is deeply tied to physical health and productivity.
Mental well-being is critical
The past three years have highlighted the importance of looking after our mental well-being – and this shows in the data. Nearly 48% of the working-age respondents surveyed said their overall well-being was high, 62% said the same about their family well-being, and 49% have positive workplace well-being. But there are significant regional differences. For example, in the UAE and Saudi Arabia 68% of respondents have excellent or great well-being, while those in Europe rate their well-being significantly lower.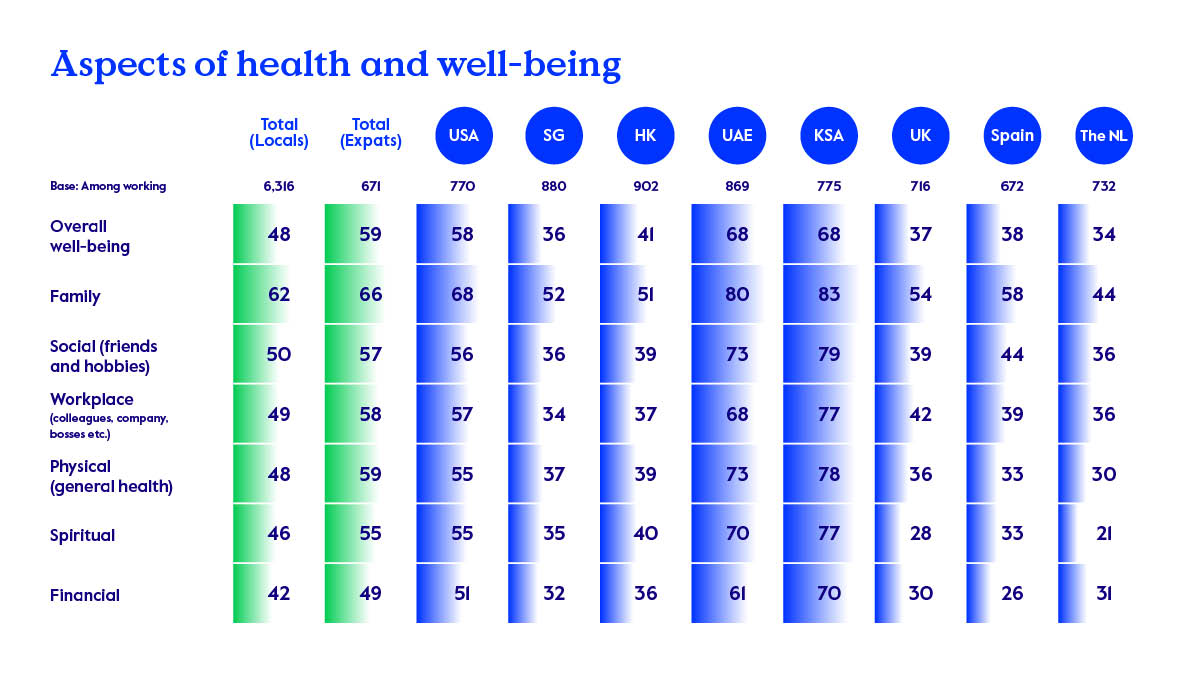 The fact that 17% of people are suffering from low workplace well-being is a significant cause for concern. Our survey confirms the well-established finding that those on lower incomes have lower workplace well-being. Women also reported lower workplace well-being in general, as did older people who are single. Overall, there is a clear correlation between low workplace well-being and overall well-being scores.
Dr George explains the impact of this imbalanced pressure: "High numbers of younger women with children are leaving the workforce, as too are older employees, often because they don't have support structures to help them with child or elder care. It's important for employers to understand their employees' needs and offer flexible support"
On the plus side, our survey shows that people are taking significant steps to improve their mental health. 65% of respondents globally said they have been exercising, 42% changed their diet, 34% did relaxation techniques such as yoga, and 24% used different forms of natural therapies such as aromatherapy.
We also saw a continuation of the trend over the past three years for people to prioritise family and friends, with 27% purposely finding time to connect with people they care about. At the same time, 26% are trying to spend more time outside in the fresh air, while 25% are simply finding ways to laugh and have fun.
Recognising the business benefits
Poor employee mental health isn't just bad for people; it also costs organisations money. According to a study by the Pennsylvania State University in the US, one poor mental health day in a month leads to a 1.84% drop in per capita real income growth. Meanwhile, another study of 20,000 employees by the University of Birmingham in the UK found that when employees have greater flexibility over their work and hours they reported significantly higher levels of well-being and satisfaction.
This is why Cigna has launched its 5% Pledge, a new initiative which challenges business leaders to commit 5% of their working time to invest in improving the mental health and well-being of their employees. This isn't just the right thing to do, it also makes business sense. The University of California, Riverside found that organisations which invested in well-being saw a 5% increase in productivity, with each dollar spent on well-being programmes resulting in a reduction of US$3.27 in health costs and US$2.73 in absenteeism costs.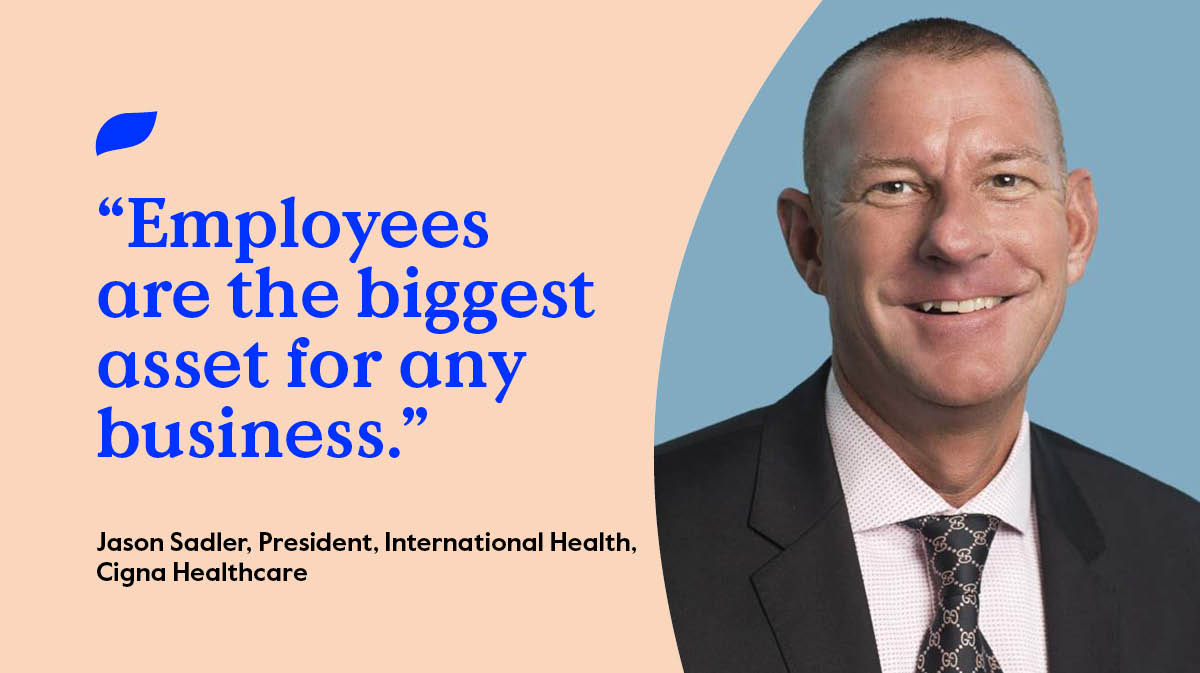 The path ahead is clear. Organisations need to invest time and money in their employees to achieve individual and business well-being.
Jason Sadler, President, International Health, Cigna Healthcare sums this up: "Employees are the biggest asset for any business. Protecting, nurturing, and supporting them is critical to long-term business success. This is why we launched the 5% Pledge. We can clearly see from our own experience that investing in positive mental health creates a more effective working environment, higher levels of retention, and ultimately improved business results."
About the Research
*Cigna Healthcare's International Health research was conducted via an online survey between 3rd and 31st January 2023 in the following markets: Hong Kong, Saudi Arabia, Singapore, Spain, the Netherlands, UAE, UK, and USA. The respondents were members of the general population, aged 16 to 65, representative of age, gender, and income. The survey also included expats, aged 16 to 65, currently residing in a country other than the country of citizenship.