What we eat affects both our physical and mental health. Now more than ever, it's important to keep your energy levels up; stay hydrated by drinking plenty of water; and make sure your body gets all the nutrients it needs by maintaining a healthy balanced diet.
Planning in advance, involving the whole family, and having some quick and easy recipes to hand can make cooking less of a chore and more of a pleasure.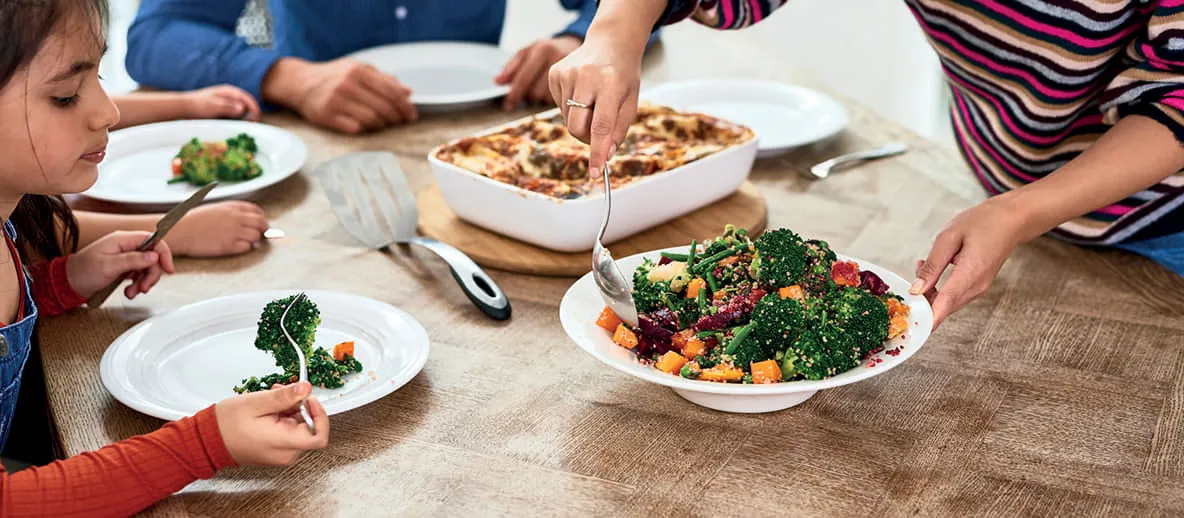 Plan meals
Planning a weekly menu not only means you can make sure you get all the ingredients you need in one go on your trip to the supermarket or when ordering food online; it can also take the stress out of deciding what to have for dinner each day. It's also a good way of reducing waste, as you can plan meals with similar ingredients a few days in a row.
Choose healthy snacks
It's tempting to open the fridge and see what we can find to snack on when there's a lull at work or when we fancy a treat. Try and eat only when you're hungry, and get some healthy snacks like fruit, plain nuts, or vegetable sticks and hummus, to enjoy when you're peckish. Or, try your hand at some creative snacks, like our crispy plantains or fruity kebabs.
Cook healthy meals
Eating a balanced, nutritious diet is important to stay healthy and feel your best. It's recommended that adults eat at least five portions of fruit or vegetables each day, and that diets include a good balance of protein, fibre, and dairy (or diary-free equivalent) as well.

Making meals that are healthy, nourishing, and tasty doesn't have to take the whole day. Our quick and easy potato and vegetable curry contains a host of vitamins, minerals, antioxidants, and fibre; while our vegetarian chili, packed with vegetables and kidney beans that are full of fibre and protein, only takes half an hour to prepare.
Prepare dishes in batches
Some days we just want to be able to take something out of the fridge, heat it up, and eat. When you do cook, consider making a batch and freezing additional portions. Our spicy Mexican bean soup can be frozen and reheated, perfect for lunchtime or a light evening meal.
Involve your children
If you have children who are old enough to help out in the kitchen, get them involved and make cooking a family event. Measuring out ingredients also makes a great practical maths lesson. Try our recipe for a tasty, healthy pizza, as a fun, more nutritious alternative to traditional pizza.
Have the occasional treat
Start the day off well with a delicious breakfast with a touch of cinnamon and sugar; our French berry toast is served with a portion of antioxidant berries, which are great for the immune system. Or, if you're looking for a chocolate fix one evening, try our dark chocolate nutty bites.
Sources:
[1] Eat well. NHS. https://www.nhs.uk/live-well/eat-well/. Accessed April 30, 2020.