Michael Niffenegger moved from the USA to Scotland in 2018. He has been living there ever since.
This is his expat story.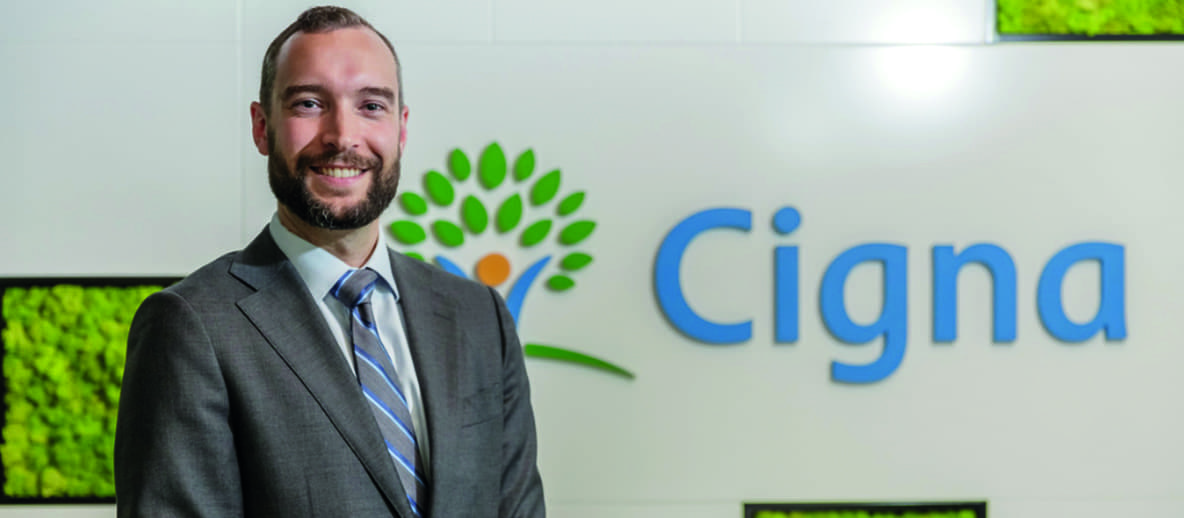 Tell us about your expat story.
Growing up, my family always travelled and took vacations within the US, and my first time abroad wasn't until 2008 when I went to the Caribbean on a cruise with friends. That following summer, while attending a conference as an intern, the question was asked to the hundreds of college students who would want to take part in a global rotation at some point in their careers. Every single hand shot up, and the 'group-think' got to me so I quickly raised my hand as well, although it hadn't really crossed my mind up until that point. I still say that one of my biggest regrets from my undergraduate studies was never studying abroad.
However, during my senior year at Penn State University, after I had accepted a full-time offer with a large financial company, I learned of an international training opportunity for first year hires the following fall. After an extensive interview and application process, I had the opportunity to travel to Rome, Italy for two weeks of on-boarding to begin my career. This is where I really got bitten by the travel bug, and was already planning my next trip abroad shortly after finishing this training.
After several personal trips and a MBA study abroad trip to Europe, I expressed interest to my development program at Cigna in potentially doing a role abroad at some point in the future. Meanwhile, I relocated from Philadelphia, PA to Nashville, TN, bought a house, got married, adopted a dog; and my wife and I welcomed our first daughter to the world, so I thought my opportunity to relocate abroad had passed.
About three months into fatherhood in early 2018, I received a phone call that I will never forget from the Director of Cigna's Financial Development Program. She confessed that the nature of the call would sound like it was coming out of left field and that it was extremely confidential, as she let me know that the CFO position for our GIPMI segment was open and my name had been brought up as a potential successor.
I thought there was no way that my wife would go for it, considering we had just become parents and would sacrifice the nearby friends and family support. However, much to my surprise, she was on-board!
I moved over to Glasgow a few weeks before my family to sort out our accommodations and take care of some necessary travel with the role, and overall, the move went very smoothly. We have lived in a village about 30 minutes north of Glasgow for over a year now and we are really enjoying it.
What did you find were the best ways of making friends as an expat abroad?
To be honest, and unlike me in the past, my wife has done most of the friend-making in the UK. I have been lucky in that I have hit it off with all of the partners of the fellow "Mums" that my wife has met at various toddler groups.
Having young kids makes it easy to meet friends between all of the different events and the fact that you have something in common.
What have been some of the biggest highlights from your expat journey so far?
Scotland as a country has so much to offer, and it's awesome to be within hours of world-class travel destinations in the UK. A recent highlight was hosting two of my fellow American friends for a long weekend, where we rented a camper van and toured the Isle of Skye—I would definitely recommend this to anyone as it was a great way to travel and made the itinerary very flexible!
Prior to the move, I joked that I only needed to bring two material possessions of mine—my golf clubs and my road bike. My golf game is steadily improving despite the challenging Scottish golf courses and climate, and I have put in some good miles on the bike, albeit in much different environmental factors. It is true what they say about Scotland weather in that you can frequently experience four seasons in one day.
Outside of Scotland, I have travelled frequently from both a personal and a work perspective. I have travelled to the beaches of Portugal, to the desert of Dubai, and the narrow and humid alleys of Hong Kong; all together I have now been to 27 countries, with plans to visit many more.
What have been some of the biggest challenges so far?
As expected, the sacrifices made from a personal perspective in moving across the pond from family and friends is always going to be tough, but Scotland is a great place to visit so we have already hosted many family members and friends since arriving. I have also been back to the US several times, so I feel that I have seen my family more than expected. FaceTime/Skype also help, but it is obviously not the same.
From a business perspective, the time zones that come with a global business have been a major challenge. Between working on projects in Asia and America, sometimes I feel that my days are set up like a dumbbell, as the early morning and evening are busier than the actual UK work day sometimes.
It is easy to get swept up in long days with no breaks, but you must find the balance and work-life harmony to avoid burnout and make time for your family and hobbies. Both stress and loneliness are two topics that typically accompany expats, so you must be diligent about priority-setting and values to ensure that your physical and mental health are not forgotten.
I feel that I have been lucky in having a great support system in place, so these have not been as big of a challenge for me. Self-awareness is foundational here, in addition to the many resources that Cigna provides to help cope with being in a new environment.
What do you miss about your home country?
American sports. I've tried to pick up rugby, cricket, and other sports that are more popular outside of the US, but I miss Penn State football and Washington Capitals hockey. British Technologies (BT) cable does have an ESPN feed where I can catch a few games, but typically to watch the games live means the games are at 12:30am so it is quite a disruption to my sleep schedule.
I also miss some of the American food options (e.g. Chipotle, Chick-fil-a, and Dunkin' Donuts, for starters); however, Glasgow is a great cultural city, and with that comes phenomenal restaurants and cuisine. I was told by many that I would be eating a lot of fish and chips, but I think in the year and a half I've been in the UK, I've only had this once!
How much do you enjoy your role in Cigna?
This is my fifth role with Cigna and by far the most developmental for me so far. Between the global nature of the role and the various stakeholders and cultures that come with it, to my first stint on a segment's senior leadership team, there is always something new and challenging to tackle day in and day out.
The best way that I can explain the role is that it is a real-world MBA as I have picked up skills and competencies in leadership, global business, organizational development, project management, negotiation and many others.
What advice would you give to those who are considering making a move?
Do it. The amount of new experiences that you are exposed to both from a professional and a personal perspective are more than worth it. I feel that if I did not jump at this opportunity, I would have regretted it for the rest of my life.
Once you have decided that you will become an expat, reach out to others who have done expat assignments in the past, either in the city you will be living or elsewhere. Everyone has a different expat story, so it was key for me to learn of various experiences from both Cigna employees and other contacts who have lived abroad. I was lucky in that there were several Cigna expats in Glasgow who were able to recommend areas to live, restaurants, how to get around, etc.
What would be the one piece of advice you wish you'd known before moving?
I'm still waiting on advice on this topic today, but it is how to sleep on planes. Much to my dismay, I cannot sleep on planes, which is a problem with the amount of travel that comes with the role.
I was told by a former boss that the way he learned to sleep on planes was during his time in International Markets, he would fly red-eye internationally and once he landed he would have to go straight to meetings, so his time on the plane was really the only time he had to get some sleep in.
I have tried many different methods, but I fall victim to the "head nod" that wakes me up every time! Instead I must rely on multiple coffees upon landing to get me through the new time zones upon landing.
If anyone has any tips and tricks that they know will work, please get in touch with me.
Finally, how would you describe your expat journey in 10 words or less?
"Great things never come from comfort zones."
Expat Stories