A pastime that allows you to explore, relax and exercise all at once, the popularity of paddleboarding grew in tandem with the rise of surf culture in the sixties, but its origins date back to Hawaii in the 1800s when natives would paddle from one island to the next.
The activity has seen a huge rise in popularity in recent years, as people looked for ways to exercise outdoors and find mental health outlets in a socially distance way during the COVID-19 pandemic. Paddleboarding encourages you to actively engage your muscles and relax your brain, as you discover new places. It is a great way to meet new people but equally beneficial as a solo activity.
A recent study about the physiological, musculoskeletal and psychological benefits of stand up paddleboarding (SUP) has shown there is a positive link between the activity and quality of life as rated by the participants involved in the study. It also found that paddleboarding can help to improve aerobic and anaerobic fitness, as well as core strength.
We look 6 reasons why paddleboarding has become so popular among people looking for a great new way to exercise, socialise and relax, and offer some pointers on how to get involved, and stay safe when paddling.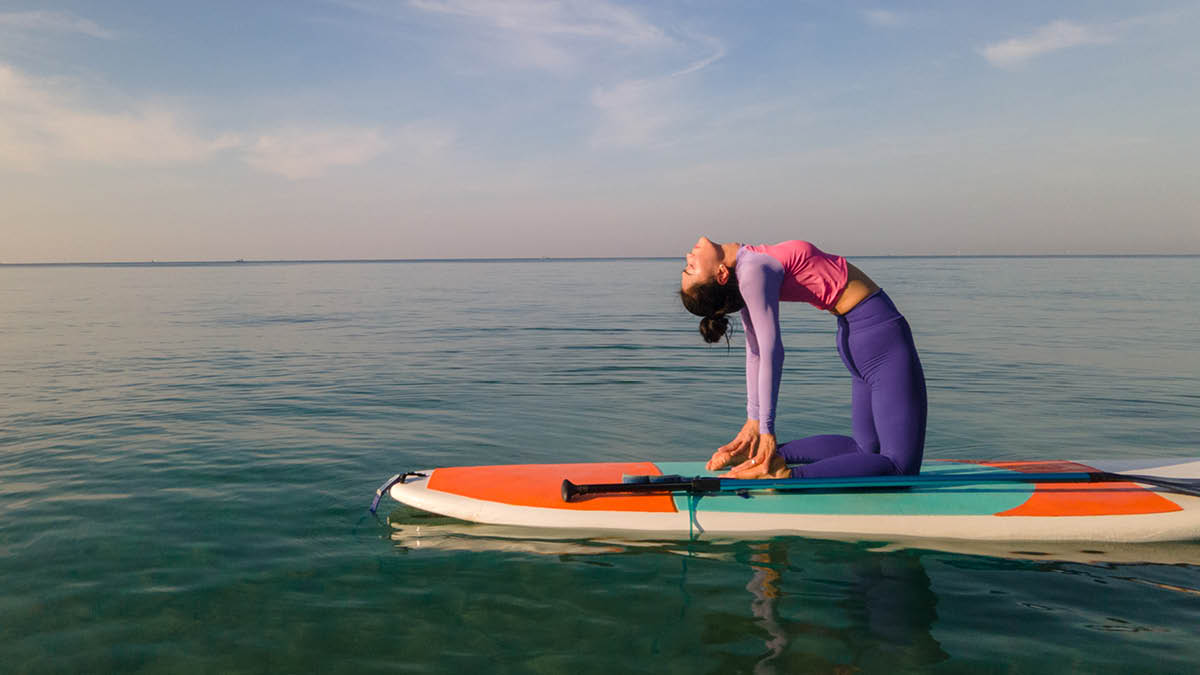 1. It's easy to learn.
It's an enjoyable pastime from the get-go. Unlike some activities, you do not need to dedicate years of your life to becoming an efficient paddleboarder.
Jennifer Cordero started Paddleboarding London five years ago having been a SUP yoga coach for ten years.
"I thought the combination of yoga and being outdoors on the water sounded amazing, so I looked into doing a teacher training course for that, and over time I spent more time on the water, and more time paddleboarding."
"You will find paddleboarding everywhere you go now. The beauty of it is that it's for everyone, whether you're young or old. It's a really accessible sport."
2. Paddleboarding has many proven physical benefits.
"It's a great all-body workout," Jen tells us. "It involves lots of core stabilization - having a strong, stable core helps us to prevent injuries."
The activity of paddleboarding centres around core muscles, but requires the cooperation of quadriceps, arms, shoulders, and knees to get the job done. It helps to improve strength, and endurance.
"It does require good knees to go up and down on the board," Jen admits. "But if you don't have strong knees, you can stay kneeling or sitting on the board."
It is a sport for all levels of fitness and different ages, a great way for individuals, families, or groups of friends to exercise together at an easy pace.
3. Paddleboarding for mental health.
For most of us, there is something soothing about being in, or in the case of paddleboarding, on, open water.
"I think there's a natural rhythm that goes with paddling, the repetition is actually very soothing," says Jen, whose background in yoga makes her a great person to talk about the relaxing and meditative nature of paddleboarding.
"You'll find yourself breathing nice and deeply, moving in a smooth and rhythmic manner. There are also loads of studies that show how being outside has positive benefits for your mental health."
"There's not the social pressure to keep up small talk," as Jen puts it. "You move at different speeds so you get a chance to chat to someone, and then you might drift and talk to someone else before reconnecting with the other person. There's a nice flow to the conversations."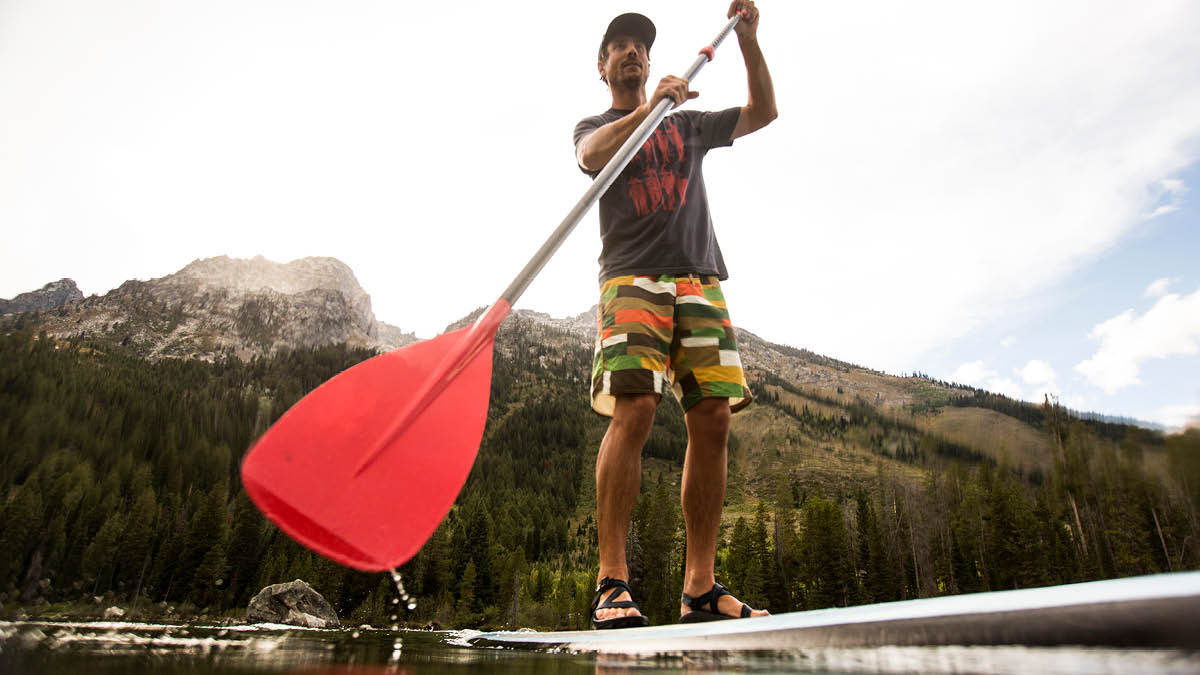 4. Starting out is easy.
There are plenty of paddleboarding clubs that offer taster sessions as an easy way to learn the basics of water safety, getting yourself stood up on the board, and paddling techniques. "Find a local club, or somewhere to have a lesson first," is Jen's advice to anyone wanting to start out paddleboarding.
The increase in popularity means that many open bodies of water are not far from paddleboard hire stations. There is also a great range of inflatable SUPs, which are a good option as they are easy to transport and require minimal space to store. However, it is important to make sure you know the basics before you head out on the water by yourself.
5. Boundless opportunities to explore
Paddleboarding enthusiasts use the activity to explore rivers, lakes, and seas, visit secluded coves and otherwise unreachable riverbanks. Take supplies in a waterproof bag and you can spend hours on the water.
"We're right in the heart of London," says Jen, referring to her club. "But so many people come in and see a different perspective from being on the water, there are lots of places that you can only really see from your board."
6. Become a part of a global community.
Just like any modern-day activity, paddleboarding has reached all corners of the planet. Approximately 3.74 million people enjoy the sport all over the world, and thanks to social media, you will be able to tap into this extended family and find passionate people wherever you go.
Jen is part of this global community, and she loves the family she belongs to. "It's a really lovely community. Social media allows you to do virtual paddling in different places, and everyone I've met is very friendly and supportive."
So, time to get out on the water and give it a go. Paddleboarding really is an activity for everyone, quick to learn and easy to access. The multiple physical and mental benefits make it a great sport to boost your well-being while making new friends, exploring, and becoming part of a global community.
And remember, water safety is essential. Be sure to check the weather forecast and tide times. Offshore winds can make the open water unpredictable, and paddleboarding is enjoyed most on calm days. Always check your equipment before setting out, and never forget your life jacket. Waterproof bags are essential for keeping crucial items like your phone (or your lunch) safe and secure.
"Some people aren't respectful enough of the water. Make sure you know the conditions, speak to someone local and make sure you have all the right equipment on you. Some people don't use their buoyancy aids because they don't think it looks cool, but it's not really going to help you if it's just on your board."