British Deputy Head Teacher Stephen Hurworth, 34, is loving his move back to Bangkok, after teaching in Beijing for seven years.
I'm really happy to be back in Bangkok. My first job in this vibrant city was in my early twenties, when I moved from the UK to become a PE Coordinator at Heathfield, a small international school. Ten years later, I'm back with my wife Lenny Jane, and am now Deputy Head of Secondary at Bangkok Prep and Secondary International School, having spent the last seven years teaching at Dulwich College, Beijing.
As an expat, there are many things going on in Bangkok. It's particularly great if you're into sport. It's just an easy place to live - it's inexpensive, the people are lovely, and the food is delicious. Then there's plenty to do socially, with amazing restaurants, clubs, sports, and safe nightlife.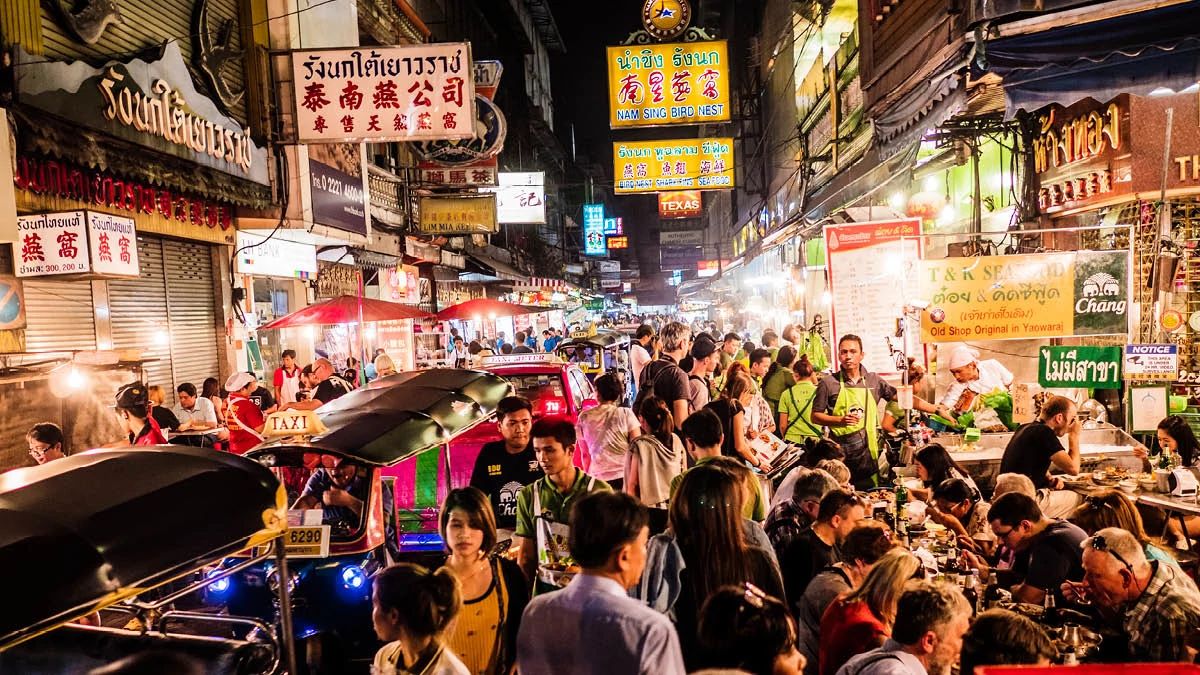 Where to eat
We're blessed living in Thong Lo, which runs from the Thong Lo BTS Skytrain station on Sukhumvit Road, north to Phetchaburi Road. It's quite trendy and there are loads of restaurants, particularly Japanese, but also Thai, Korean and plenty of Italian places. There is endless choice and the value is excellent.
On my 15-minute walk to school from the station in the morning, I go past all these gorgeous-smelling places cooking breakfast. Some of the street food has been scaled back, which makes walking easier but it's also a shame.
We don't often eat street food, but do sometimes get Som Tam, the typically Thai papaya salad. It's got the sourness of lime juice and salty fish sauce, plus chilli, tomatoes and shredded green (unripe) papaya, and sometimes other veg and shrimp, too. It's sold everywhere here and is delicious.
Ruenros restaurant in Sammakorn Village is somewhere we love to eat out. We had a town-house in this peaceful suburb of Bangkok last time we lived here. Ruenros serves great seafood and Thai fusion. Krua Tee Song restaurant also in Sammakorn, is good for a proper Thai lunch.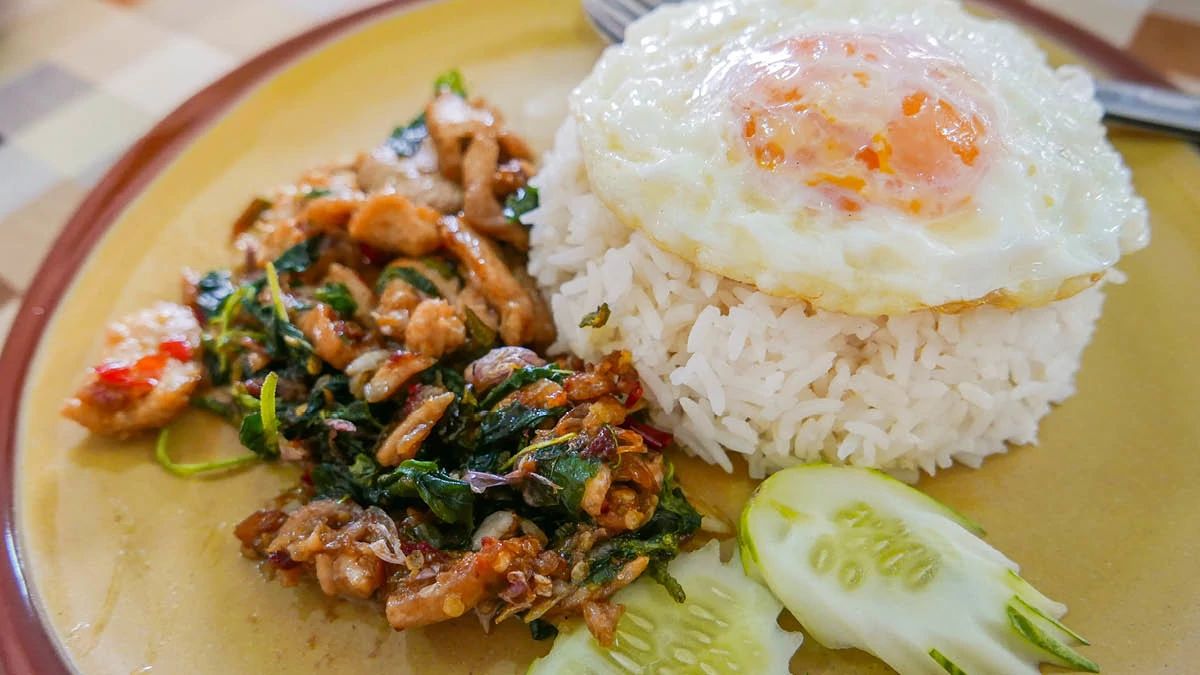 One of my favourite Thai dishes is Pad Kra Pao, which is a chicken stir-fry with loads of basil, chilli and rice, with an egg on top. If we're going out for a curry, I'll choose a Massaman curry, full of classic Thai flavours – lemongrass, shrimp paste, chilli, peanuts. I also like Khao Man Gai – a plain chicken and rice dish livened up with a chicken broth and a spicy sauce served on the side.
Where to meet people
Many of the people I've met in Bangkok are through work. I'm applying to be a member of The British Club, which has lots of societies and social events. Most teachers I know are associated with a membership club of some sort. Lenny Jane has some of her family nearby, so we see them, too.
I find sport is a great way to meet people. There are clubs and leagues for everything, from football, golf, cricket, rugby, netball, boxing and rambling through to soft ball. Any activity you can think of really, there's something here. And connecting with them on social media is really easy.
Where to exercise
I'm a PE teacher as well as a Deputy Head and I love sport. I tried to be a professional cricketer for a year in Australia after university, but I realised I wasn't going to make it. There is a brilliant expat football league called Bangkok AFL Casuals. It's a bit like a mini world cup with a French team, South American team, Korean team, Japanese team, and so on. You're playing against different nations every week.
I will play cricket when the season starts. I'm an affiliated member of The Southerners, from when I lived here before - I used to be their captain. I'm also a mad golfer. My favourite course is Muang Kaew, which is about 20 minutes from downtown Bangkok.
Also, in our condo block there's a gym and a swimming pool, so it's easy to get your daily exercise in. Lenny Jane does yoga, too. There are classes in gyms, as well as online teachers and apps.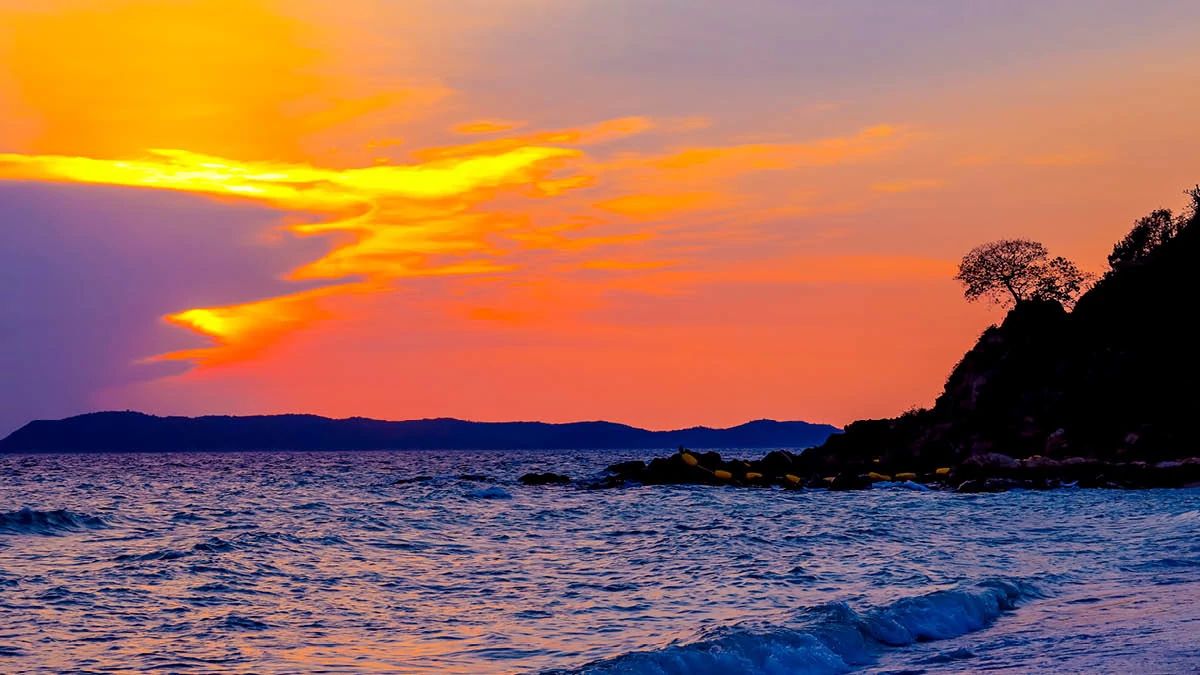 Where to escape
We love Hua Hin, which is where I proposed to Lenny Jane. It's about a 3-hour drive from Bangkok. There's a beach, seafood restaurants, a lively night market, numerous beach activities, and some of Thailand's best golf courses.
At the weekends, we often go to Sammakorn village in Bangkok itself, where we lived when we first came here. It's one of the oldest villages in Bangkok, based around seven lakes. There a good weekend market, and it's just a calm place for a stroll and lunch out. It takes about 30 minutes to get there from the centre of Bangkok on a Sunday.
For a holiday, we might go to Jomtien Beach, which is close to but nicer than Pattaya. We also love Phuket; every one of the bays on the island has its own atmosphere. Phuket town is quirky and fun, too, and has art and history museums. It's more than just a beach. Koh Samet, which is the closest island to Bangkok, is a lovely nearby escape.
Where to be mindful
I use the Headspace mindfulness app every morning, and practise gratitude and also set an intention for the day. I had a bit of a struggle with my mental health in 2019 due to overwork and living too hard at the weekends, so I stopped drinking so much and working too many hours and got into a good habit of taking time every day for myself and my mental health.
Meditation is a big part of Buddhism, Thailand's main religion, so this is a great place to start practising it. Wat Mahathat, a landmark temple near The Grand Palace, has a Vipassana Meditation centre with daily guided meditation classes with the help of English-speaking monks if needed. There are many more meditation centres dotted around the city, too.
Many jobs for expats offer a well-being focus, particularly since the pandemic. Our school runs well-being activities at the weekend for staff, pupils and their families, including sports and fun events.
I think in general, there's a good focus on a healthy work-life balance here.
Where to try something new
There are plenty of places to get a vigorous Thai massage in Bangkok. There are cheap options everywhere. Or opt for somewhere more elegant like the Yunomori Onsen & Spa which does Thai and Japanese massage and has an upmarket spa.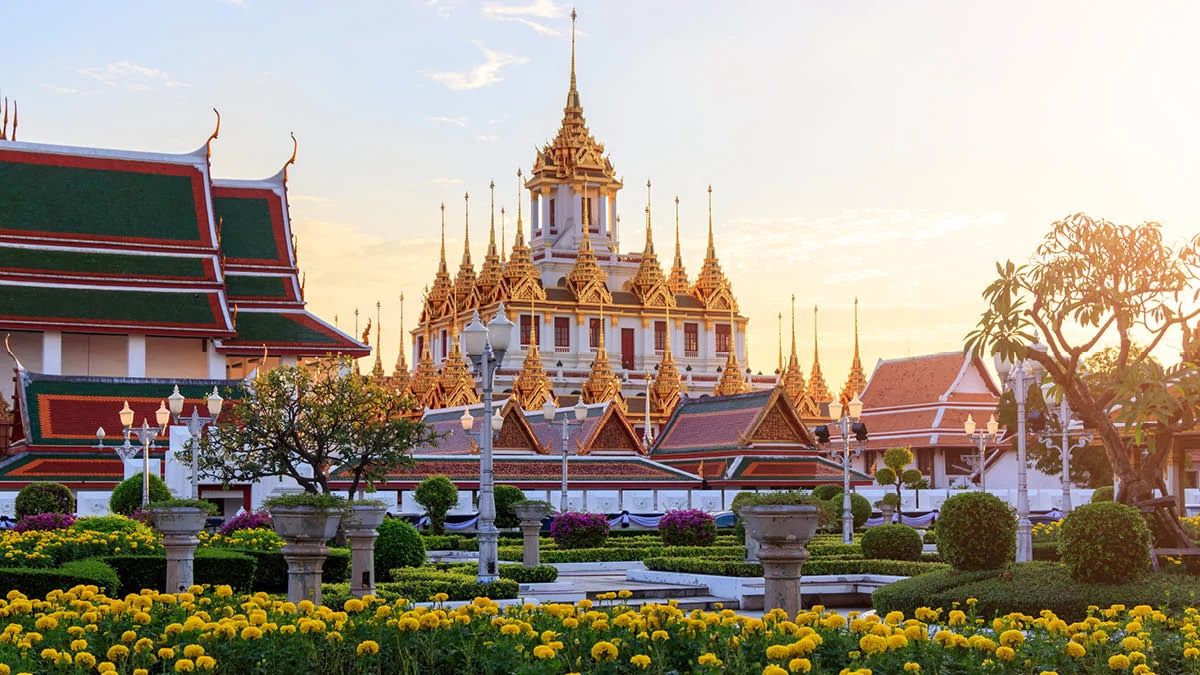 Where to see something special
You can't come to Bangkok without visiting the Grand Palace once. It's a series of ornately decorated gold-clad buildings in the heart of the city and the official residence of the Thai Royal Family.