Born in Yorkshire, Sheona Gillespie grew up as an army child, living between Germany and the UK. She became fluent in German and gravitated back there as an adult. In the 1980s, she also joined the army, working in military intelligence, which is where she met her husband Michael, who was an army chef.
After leaving the army in 1990 she worked for an assortment of companies in Germany, including in trade fairs and electronics, and is now in the digital transformation team for a large business consultancy firm.
It did take a little while to settle in Germany. It's a bit like back in Yorkshire, where you have to live somewhere for 25 years before anyone considers calling you by your first name. But we're well and truly at home in Erkelenz now. Being in the army was still very British, but once I left, I fully immersed myself in German life. I brought up my children here, so we've been settled a long time.
My husband Michael and I have a real love of German food, and food in general to be honest. He's still a chef, and cooks for us at home. We also eat out regularly.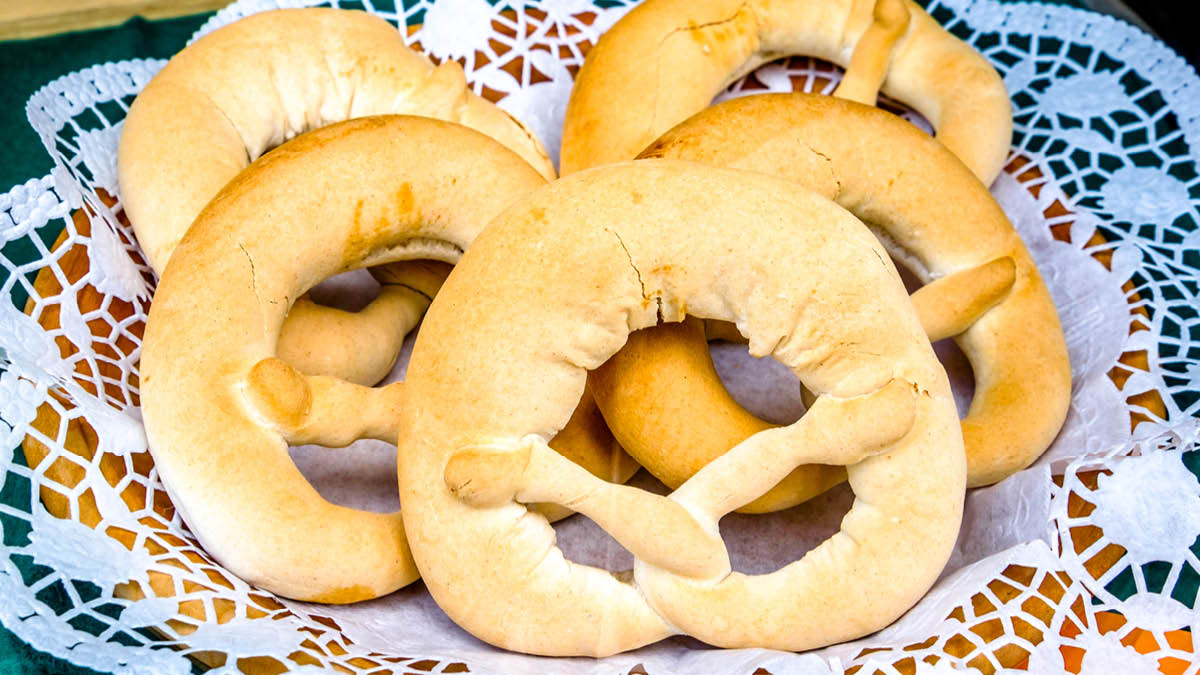 Germans are very serious about bread. They particularly love quite heavy rye, spelt and sourdough breads. Each region has its own varieties. Bavaria famously has Bretzeln, the big pretzels. Bread made from potato flour is popular, too.
Bread is an integral part of a meal here. Breakfast will be some kind of sourdough or fresh rolls – seeded, plain, poppyseed – with butter, cheese, jam and so on. Lunch is traditionally the hot meal of the day, and in the evening Germans eat Abendbrot (evening bread), which is a meal of more bread, cold cuts and cheese.
Villages and towns usually have a family-owned bakery or two, but they are closing rapidly as owners' children don't want to take over. It's hard work and starts very early, and chains and supermarkets do it all cheaper (but not as well). Michael bakes all our bread now.
The best bakery in Düsseldorf, our nearest city, is Hinkels. Queues form early and it sells out every day. Not far from here in Aachen there's Nobis, which is a specialist bakery chain. We go there at Christmas for Printen gingerbread.
I've had many discussions with Germans about sandwiches. They laugh at our silly floppy British bread. It's been an uphill struggle to persuade them that it's just a sandwich-filling delivery-system to keep your fingers clean! I have found a brand of wholemeal for when we really need that fish-finger sandwich hit.
We live in one of the huge asparagus-growing areas. We even have a May asparagus festival. Erkelenz is nearly a thousand years old with some pretty buildings, so it's a lovely spot to get everyone together in the square. They tend to serve asparagus with Hollandaise sauce and boiled potatoes. Strangely, it's always sold in pounds rather than grams and kilos. In Frankfurt, where we also go quite often, they serve asparagus with a herby green sauce (Frankfurter Grüne Soße) made with sour cream.
There are many good restaurants here in the Rhinelands. Our favourite local one is a family-run place called Tüschenbroicher Mühle, beside a lake in Wegberg. Starting in November it's goose season and they basically just serve roast goose. You get a goose between four people, served with potato dumplings, red cabbage, stuffed apple, and gravy. They carve at the table and tell you about the history of the place, which used to be a watermill.
Another restaurant we love is Fuchsbau, meaning burrow, set in the woods. Egon Roney once said it was the best chicken he'd ever eaten. You get half a free-range chicken and chips and salad on the side; simple and delicious. It's where we always take visitors.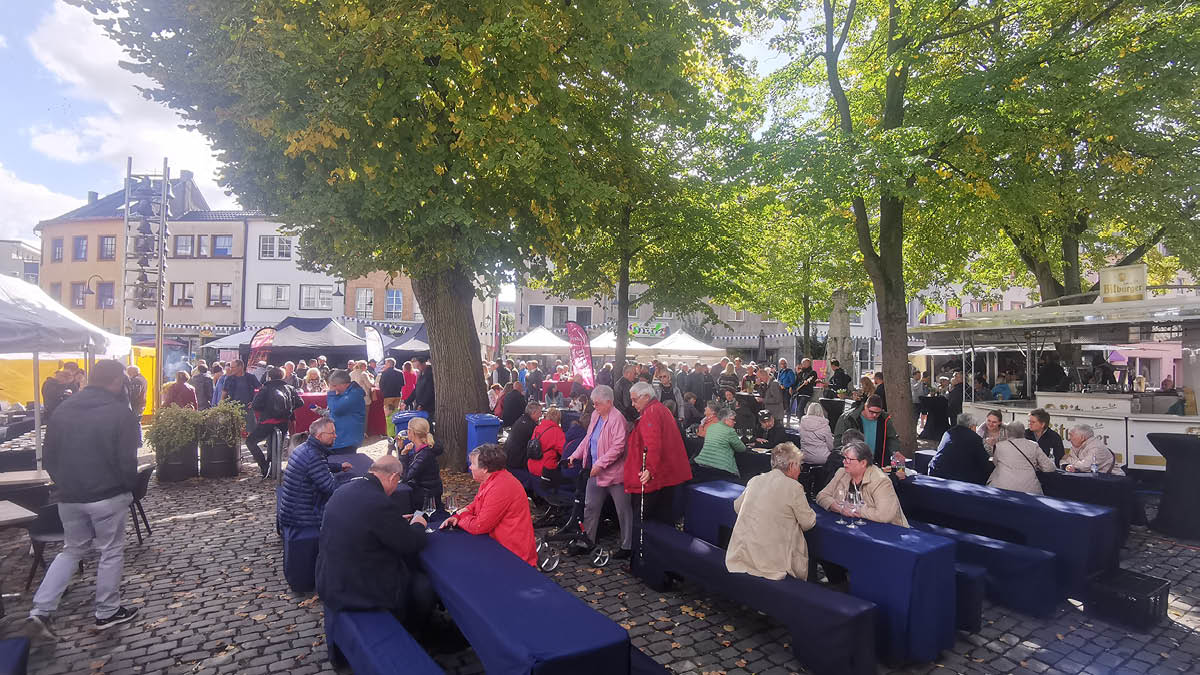 There's a great food festival here in Erkelenz in September. All the local restaurants take a stand in the town square. The butcher always offers delicious slow-cooked beef cheeks. Seasonal food and locally reared meat are important here.
Barbecuing is very popular. We often have work grills to get everyone together socially. Of course, there will be German sausages. The main types are likely to be Bratwurst and Krakauer, plus the Frankfurter style ones such as Bockwurst. You do get more British-style fresh ones, but they're longer and fatter. Then there are regional kinds like Weisswurst that are eaten with sweet mustard, particularly in Bavaria. They'll also do beef neck steaks and pork belly.
I'm very lucky to have a chef for a husband. He nearly always cooks. If our girls are here we'll have traditional German food with the likes of eggs, cream, spinach and potatoes. We might make Käsespätzle, which is fat noodles squeezed through a potato ricer into water and then fried with onions plus grated cheese. It's great comfort food.
I love Korean food. I worked for LG for a long time, which is a Korean company, and I really got into it then because they eat it all the time. During lockdown, I watched a lot of videos of a Korean cook, Maangchi. We gave it a go and bibimpap became one of our go-to meals.
The only food I miss from the UK is fish, chips and mushy peas, which I have every time I go back. I do also crave Marmite and Henderson's relish. We used to have a British shop, but it went bust as the costs were too high after Brexit. It's very expensive to send anything now. Us expats have literally stopped sending parcels back home, it's such a shame.
I've always loved football. My granddad used to work at Sheffield Wednesday, so I used to go with him when I was a little girl. We live not far from Borussia Mönchengladbach, known as Gladbach for short, and my husband and I have finally got season tickets after years of waiting. The most common football-watching snack is probably a beer and a pretzel.
People are very proud of their beer here. There's a beer purity law which dates back to 1516, which dictates that the ingredients for beer must be water, barley malt and hops, and since the 19th century, yeast, too. People do love drinking here – as much as in the UK, but bars and pubs stay open much later so they drink slower.
We also love going to gigs and concerts, particularly rock, but also go to the opera in Düsseldorf, where we'll drink a glass of Sekt, the German sparkling wine.