From the active, high-carb lifestyle of the Japanese Okinawans to the veg-heavy menu of the Puglians in southern Italy, there's always something to be learned from diets around the world. Here we take a look at five good examples...
Okinawa, Japan
If you need to know one thing about the island of Okinawa, some 500 miles south of mainland Japan, it's what they eat. The Okinawa diet has long been seen as the key to living longer as this island has produced more 100-year-olds per capita than anywhere else in the world.[1]
The diet itself is low in calories and fats whilst high in carbs with only moderate protein intake. Root vegetables are king (especially sweet potatoes), alongside green and yellow vegetables, soybean-based foods, spices (particularly turmeric) and – when protein is included – lean meats or fish.
But if you want to 'go Okinawan', it's about more than the food. Physical activity is a key feature of daily life in Okinawa, and they also believe in Hara hachi bu which essentially means stopping eating when you are 80% full. Doing this allows the hormones that make you feel full to reach their maximum blood levels, which takes approximately 20 minutes.[2] So rather than never feeling full, this approach avoids the unpleasant feeling of overeating.
Such is the reputation of Okinawa diet, recipe suggestions are plentiful so it's easy to broaden culinary horizons and try a literal taste of a healthy way of life.
Puglia, Italy
The Puglians have been waiting for the world to catch up with their way of thinking: fiercely seasonal, eating off the fertile land, to form a simple plant-rich diet. It also boasts more miles of coastline than any other mainland territory in Italy, giving those within easy reach of those shores, plentiful fish from clean waters, and, to serve, it's also home to more than 50 million olive trees.
The traditions of eating pass down from one generation to the next, and what they eat and how they eat will no doubt have an influence on what some consider the classic Mediterranean diet.
With rich soil and plentiful sun, Puglia's climate is ideal for growing vegetables such as artichokes, tomatoes, aubergines and mushrooms, and of course olives – so they're never short of local ingredients and red meat is consumed much less in Puglia than in the north of the country, with olive oil shamelessly used by the gallon on most things. Red wine in moderation is also a staple.
The impact of the Puglian way, is reflected in the benefits of a Mediterranean diet: helpful in preventing heart attacks, strokes and type 2 diabetes, it's so highly regarded in fact that in 2010 it was regcognised by UNESCO as an Intangible Cultural Heritage[3].
Again, this diet – easy to replicate due to its simplicity – also involves an active daily life, where the people work both land and sea, before boosting their mental well-being with big meals with friends and family.
Lebanon, Middle East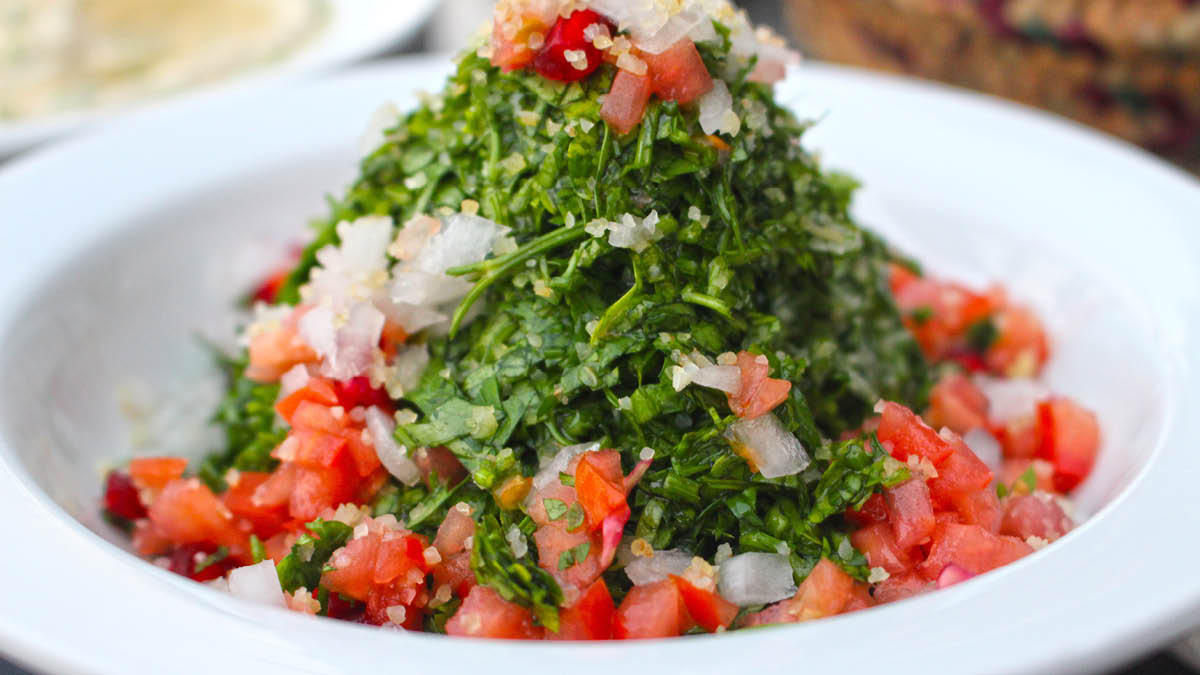 Lebanon sits on the opposite side of the Mediterranean Sea to Puglia and blends a Mediterranean diet with Middle Eastern spices and ingredients making it similarly healthy, yet distinctly different.
Olive oil, vegetables and fresh fruits are again the diet's cornerstones with fibre-rich grains, pulses, lean meats, fish and intense spices commonly featuring.
The intensity of spices and the freshness of herbs used in Lebanese cooking mean there is hardly any need to rely on salt and fat to deliver a tasty meal.
Za'atar, sumac, cinnamon, paprika, nutmeg and cumin are just some of the commonly used spices in Lebanese cooking, whilst health-boosting herbs such as parsley and mint are paired frequently, most notably in the traditional Lebanese salad Tabbouleh.
As with the Mediterranean diet, red meat is consumed in moderation (and when it is, leaner lamb is the 'go-to'), with poultry preferred.
A traditional Middle Eastern diet has been recognised as being particularly beneficial to heart health[4], and with helping people lose weight due to the tendency for dishes to be served as a collection of smaller plates – known as mezze – which naturally helps with portion control, and slows down the rate of eating.[5]
Sweden, Scandinavia
The Nordics have all ranked in the top 10 of the World Happiness Report every year since 2013[6] and Sweden has gathered the bulk of the attention, with the traditional Swedish diet often recognised as the healthiest in the region.
Food culture in Sweden is underpinned by the concept of Lagom, 'not too much, not too little, just right' – add to this an awareness of provenance and you've got the Swedish diet.[7]
Locally sourced, the diet is full of fruits, vegetables, whole grains nuts, seeds and fish, and containing less sugar and fat than a typical western diet, yet twice the amount of fibre. The latter is helped by berries, which can also help fight weight gain and lower the risk of having a heart attack[8], but are specifically popular in Sweden due to the nation's passion for foraging, hailing back to the Middle Ages.[9]
There are similarities to the classic Mediterranean diet but it differs in a few areas, one of which is its use of rapeseed oil. Rapeseed oil, like olive oil, is high in healthy monounsatured fat but also contains plant-based omega-3 fatty acids that are similar to those found in fish.
Those looking to take inspiration from a Swedish diet should remember to source its typical food groups from local origins wherever possible. Then apply a healthy dose of Lagom, and a Swedish diet is within your grasp.
Peru, South America
In gastronomy circles, Peru is one of the world's top destinations, with the capital Lima boasting some of the best restautants in the world, but the health benefits of a traditional Peruvian diet, however, have been known for much longer. Peru's geography boasts the rare combination of coasts, mountains and jungles, giving Peruvian farmers some of the world's most diverse ecologies and rich soils to produce an extraordinary array of crops.[10]
Nothing underlines Peru's bio-diversity better than the impressive number of superfoods that it exports.
The most famous is possibly quinoa – high in protein, gluten-free, it contains all nine essential amino acids, whilst also being high in fibre – but Peruvian superfoods also include goldenberries, blueberries, artichokes, pomegranates, passion fruit and camu camu – which contains even more vitamin C than is found in lemons; grains such as cocoa, maca, and purple corn; as well as fish like anchovies, eels, mackerel, and cuttlefish.
Trying to adopt a Peruvian diet will likely involve finding ingredients that might not be readily available in your local supermarket, but lots are, such as quinoa, corn, beans, and potatoes.
After sourcing an array of Peruvian foods, follow the approach of Peru's top chefs by adding ingredients local to you, to create your own fusion dish. After all, nothing could be more in line with modern Peruvian cooking.
[1] Pub Med - Genetic determinants of exceptional human longevity: insights from the Okinawa Centenarian Study
[2] Healthline.com - What Is the Okinawa Diet? Foods, Longevity, and More
[3] Beautiful Puglia – Mediterranean Diet
[4] Livestrong.com - How Healthy Is a Middle Eastern Diet?
[5] Shape.com - The Middle Easten Diet Could Be the New Mediterranean Diet
[6] World Happiness Report - The Nordic Exceptionalism: What Explains Why the Nordic Countries Are Constantly Among the Happiest in the World
[7] Health.com - 6 Ways to Practice Lagom, the Swedish Secret to a Balanced, Happy Life
[8] Harvard Health Publishing - The Nordic diet: Healthy eating with an eco-friendly bent
[9] National Geographic - Sweden: For the love of foraging
[10] The Culture Trip - 10 Reasons Why Peru is One of The World's Top Gastronomy Countries