We took a deeper dive into the perceptions of globally mobile individuals living in 20 markets in five continents to closer examine their perceptions of physical, financial, social, family and work health. We compared the findings of globally mobile individuals against all working people, whether overseas or in their home countries.
Our survey found that globally mobile individuals are generally satisfied with their experience of working overseas - higher salaries and better lifestyles. However, despite this, the perception of their personal health and wellness is lower than the overall working population.
Globally mobile individuals often experience anxieties and concerns related to macro-economic factors, and issues related to their professional and personal lives. They are concerned about their well-being and ability to care for their families financially.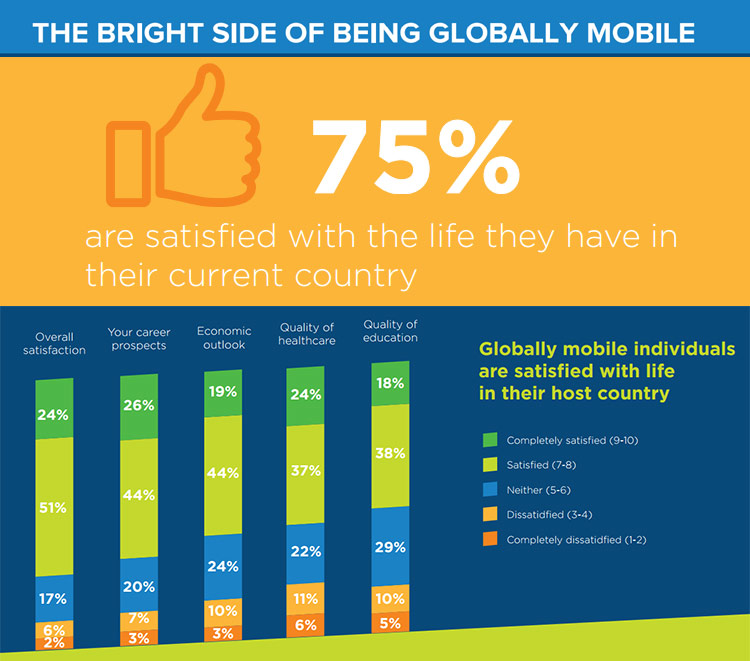 Satisfaction with working overseas
Globally mobile individuals are happy about their move overall, with 75 percent reporting they are satisfied or completely satisfied.
Career prospects are the No. 1 reason for their satisfaction; followed by their personal economic outlook (63 percent); the quality of healthcare (61 percent) and quality of education (56 percent).
Click here to read the report with more key findings from our 2017 Cigna 360° Well-being Survey.