With the nights in the northern hemisphere drawing in and temperatures dropping, it's all too easy to let your exercise habits slip – here's how to keep motivated and in shape, so when spring arrives, you'll be fighting fit and full of energy.
Don't be SAD – just walk out the door
The allure of your duvet, a warm bed and the latest boxset might seem irresistible when it's cold and dark outside, but remember the real mood-booster is staying active.
According to research, a third of people in Britain will experience Seasonal Affective Disorder (SAD) brought on by a lack of exposure to sunlight, leading a sudden drop in mood and lack of energy1. But a recent Harvard University study2 found exercise could be the key to keeping a smile on your face – just 35 minutes exercise a day helping combat depressive episodes.
Meanwhile, a study by Bates College Health Center in Maine found an hour of serotonin-raising aerobic exercise outside, even with cloudy skies overhead, led to the equivalent benefit of 2.5 hours of light treatment inside.
Every little bit of natural light exposure helps, so try walking to work, going for a run in the early morning, or even having a snowball fight (if it gets that cold) to beat the blues.
Set yourself a challenge
Whether it's undertaking the popular couch to 5k plan3 or signing up to a marathon, having a goal can give shape and structure to an exercise routine even in the most inclement weather, says Andy Wadsworth, elite cycling trainer with bwcycling.co.uk and former World X-Terra Triathlon Champion. Whatever your motivation and fitness level, there are numerous clubs and events (many of them free) that you can enter. "Having a goal of a specific race to focus on is a brilliant motivator to keep going during the winter," Andy believes.
Make it social
Some people love exercising on their own, but for others who enjoy company and are wary of running alone in the dark and cold, there are lots of free options. Parkrun organises free 5km timed runs in more than 500 locations across the world, it's a great way to meet people in your local area and is easy to join. "Being part of a social group means you can chat and make friends while staying fit – it's a win-win," adds Andy.
Kit-up
As the saying goes - 'There's no such thing as bad weather, only unsuitable clothing'. Think base layers, gloves, headbands and hats for extra warmth. "You'll find that once you start exercising outside, it's only really your extremities which feel the cold, so a decent pair of gloves and a hat are a must," advises Andy "It's also worth investing in some high-vis bands and a pair of grippy 'trail running' shoes for when it's a bit icy and wet under foot."
Stay in
Remember, if the weather is completely awful outside, there are plenty of free online exercise classes you can do from the comfort of your own home. See it is an excuse to mix-up your schedule, "If you're training for a 5k, for instance, a strength and conditioning session will perfectly complement your running, while a session focused on flexibility will help prevent injuries."
Access dozens of free strength, conditioning and flexibility videos for every level at Fitness Blender. 3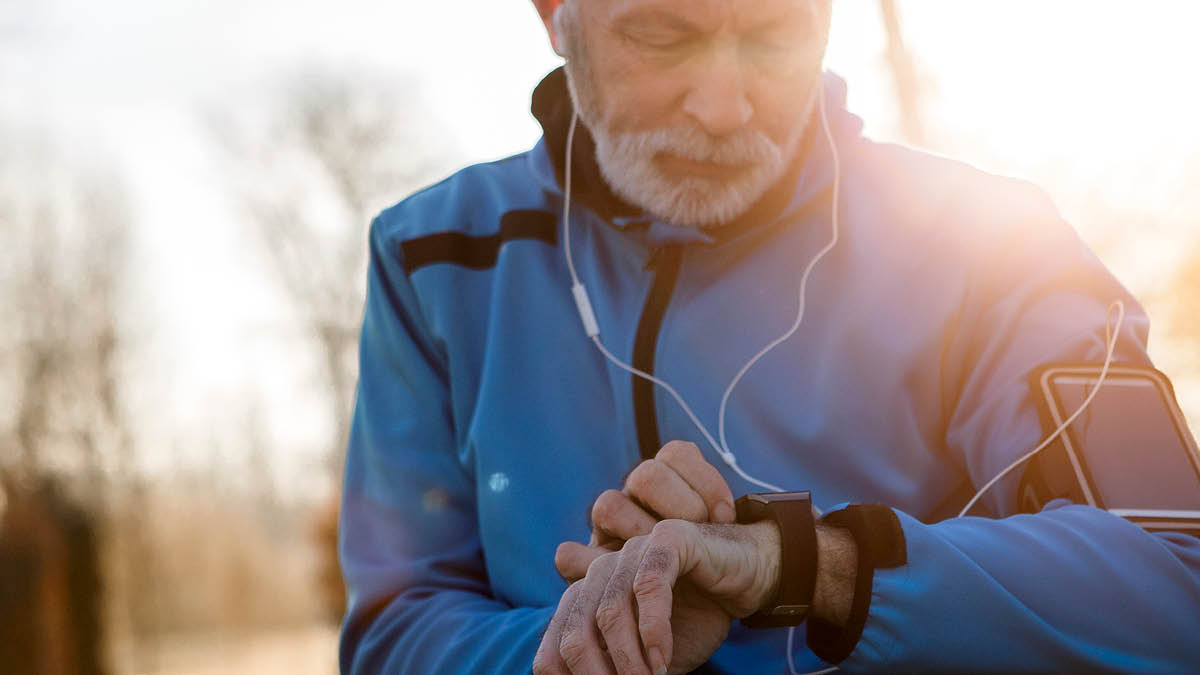 Use tech
From heart rate monitors, to step trackers, there's a whole host of pin-sharp tech available now so you can monitor and boost your progress. "By focusing on your heart rate and intervals, you can squeeze in a really beneficial 10-minute workout for when time is limited, before the sun sets for example" Andy says. There's plenty of smart tech on the market to suit all budgets.
Skin deep
Winter air isn't just cold, it's dry too. To protect your skin, drink plenty of water (at least two litres a day) and apply sun cream with a decent SPF – yes, even on cloudy, winter days your skin can suffer UV damage, and the winter sun can be just as damaging as in the summer. "It's a good idea to rub a little Vaseline around your nostrils, on your ear tips and lips," advises Andy. "If the wind's particularly biting, consider wearing a 'snood', a neck warmer which can be pulled up to also cover your face - the windchill can leave your skin cracked and even bleeding if you don't take precautions."
Warm up
Your chances of suffering muscle and ligament strains in cold weather are far greater than normal, explains Andy. "In cold conditions, your body will channel blood to your core to keep it warm, so your legs and arms will perform less efficiently". So, before anything strenuous, practice minutes of dynamic stretches – walking lunges, squats and arm-swings, for instance. "Never, ever attempt static stretches before warming up – your muscles and connective tissues need to be warm and pliable first. Save those for after your workout – along with a hot bath to flush out any lactic acid."
If your organisation is looking for business health plans, check out our solutions.
1 https://www.independent.co.uk/life-style/health-and-families/health-news/seasonal-affective-disorder-1-3-people-suffer-sad-9814164.html
2 https://www.eurekalert.org/news-releases/666657
3 https://www.nhs.uk/live-well/exercise/couch-to-5k-week-by-week/