Tackling one sport can be difficult enough, but three, surely three times as hard? But when you break it down, most of us can run, swim and cycle, so why not try them all together? This is why everyone can do triathlon.
You don't need to be super-fit. This is the first concern, that you won't be fit enough. But you only get fit by exercising and you can start with very short distances. "Even if you're going to walk the 5km run in a triathlon, there'll still be plenty of people cheering you on," says Leon Chevalier, a professional triathlete racer. "A lot of local triathlons will be what's called sprint distance, which is a 750-metre swim, a 20km bike ride and a 5km run. But there are also events which are half those distances called super-sprint triathlons."
All the gear isn't always a good idea. So while you can get into some big numbers on the bike front, and there's always a more expensive pair of trainers, when you start you don't even need a bike. "My dad rented a bike for his first triathlon when he was in his 50s," Chevalier says. Nor do you need pricey trainers or a top-of-the-range wetsuit. "You don't need to buy the most expensive stuff, just get out there and give it a go," adds Jenny Vincent of the British Triathlon Federation whose first triathlon involved a ride on an old mountain bike, a pool swim in her swimming costume and running in a scruffy t-shirt, trainers and shorts.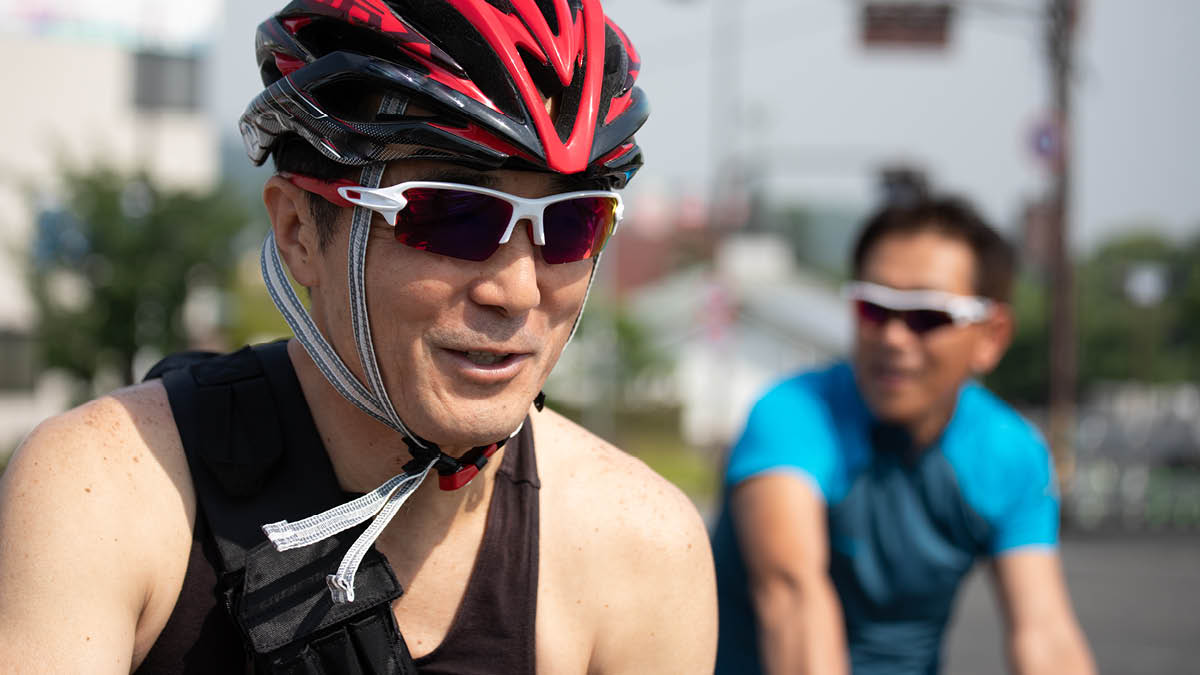 Triathlons aren't just for the young. Attend any event and you'll see a huge variety of ages from eight to eighty, and there's always someone going at your pace. "People of all different ages, shapes, sizes and backgrounds are welcome," says Vincent. "When you go to a triathlon it genuinely feels like you're part of a supportive family and the event organisers are there to answer any questions. Taking part in a triathlon is just about having confidence."
Men and women are both welcome. Ironman might be one of the world's most famous triathlons but the sport is as inclusive to women as men. "There's an equality to triathlons," says Chevalier. "The prize money is the same for men and women, which isn't the case with all sports. In this year's Olympics there will be a mixed team relay for the first time, which will involve two men and two women. Triathlons are a great way for couples to take part in a sport together."
You're going to find a new community. The triathlon world is as much about community as competition, there's a huge social side to every club. While you can always find someone to race at the front of the pack, the back of the field is a very friendly place to be. "There's a coffee-and-cake mentality," says Vincent. "It's very common to finish either a club session or an event with a bacon sandwich and a get-together. That is different from a lot of sports."
It's good for your mental and physical well-being. "A triathlon gives you a whole body experience," says Vincent. "Since I took part in my first triathlon I've kept doing a bit of swimming, cycling and running each week. I'm not competing in a triathlon at the moment but I keep to that routine because it makes me feel happy. That sense of achievement has helped with my confidence and to overcome anxiety. It's a great way to relax and give yourself a bit of time."
The first steps are always slow ones. Start your training slowly and be consistent, says Chevalier. "If you're doing a sprint triathlon you can get away with training between three and six hours a week. Start four months ahead of the race and build gradually." Again, confidence is key, says Vincent. "It's not necessarily about the length of time that you put in. It's about having confidence in each of the three elements and knowing that you can achieve them. If you know you can do a 400-metre swim and a 5km run, you just need to put them together."
You don't even need to know how to ride a bike or swim. It doesn't have to be all three, you can try two first and use your new community and friends to help learn the third. "There are different forms of the sport," says Vincent. "There are also duathlons, where you do a small run followed by a cycle and another small run, or an aquathlon, which is a swim and a run."
It's truly accessible. Google triathlon and you'll find a local club or organisation and they're all super keen to get new people onboard of all levels. Governing bodies are a good place to start to find a club and you'll even find many leisure centres run beginner courses.
So, what are you waiting for? We told you everyone can do a triathlon, and now you know, so there's no excuse.
If your organisation is looking for business health plans, check out our solutions.