PRESS PLAY TO LISTEN TO THIS ARTICLE
Voiced by artificial intelligence.
---
Jérôme Droesch, CEO Domestic Health and Health Services, Middle East and Africa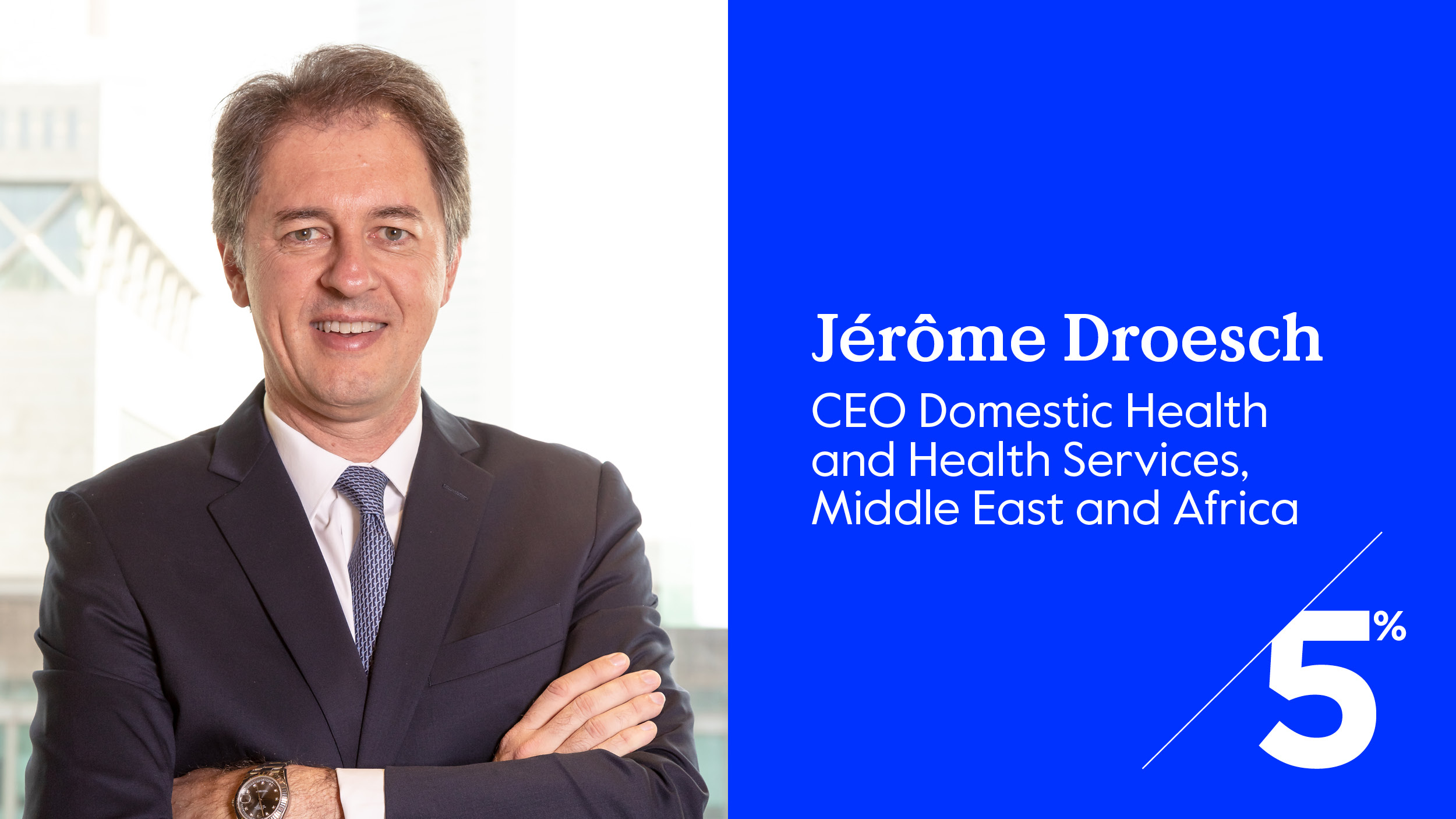 In the UAE, 4,200 people visit a GP for a stress-related illness every day. And we know from our recent Cigna Healthcare 360 Global Well-being survey that there's a big disconnect between what employees are expecting from their employer when it comes to mental health support in the workplace and the support they actually receive. The 5% Pledge is a call to action for leaders to take mental health in the workplace seriously and reduce the number of people suffering from poor mental health.
As a CEO, I think we need to lead from the top, to be a role model. As leaders, we need to change the way we approach mental health on a daily basis. The 5% Pledge is really important to me because CEOs need to change.
We did some research around how much focus CEOs place on the health of their team: Pre-pandemic, roughly 20% said it was mission critical, and post pandemic it was 50%. With the 5% Pledge campaign what we are advocating is trying to move from 50% to 100%.
One of the key challenges we're facing is that it can be difficult to talk about mental health challenges. To create the kind of environment in which it's safe to do so is complex and it requires a collective effort, it's not only HR or the top management, everyone needs to contribute. We need to create a culture where everyone has the freedom to speak. Within Cigna Healthcare we've developed an engagement committee, driven by team members where they have a budget to develop ideas and put on events that make people feel comfortable.
Also, as part of our 5% Pledge activities, Cigna Healthcare Middle East has launched a program called Happiness Matters specifically to educate people managers. The course acknowledges that managers matter - not only on the operational side of the business, but on the emotional side too. The influence they have on the well-being of their teams is huge.
The six-month course questions what 'well-being' actually means. Drawing on the science of positive psychology to answer these questions, people managers have been invited to attend bi-weekly sessions, to learn the skills to harness their character strengths, develop meaning, exercise courage, and raise the subject of well-being.
The focus is on how to build well-being inside teams through the micro-actions that help people feel seen, heard, trusted, and valued. Useful at work, these skills are also transferable to other areas of life outside work.
Carol Tan, Head of Human Resources, Cigna Healthcare Singapore & Australia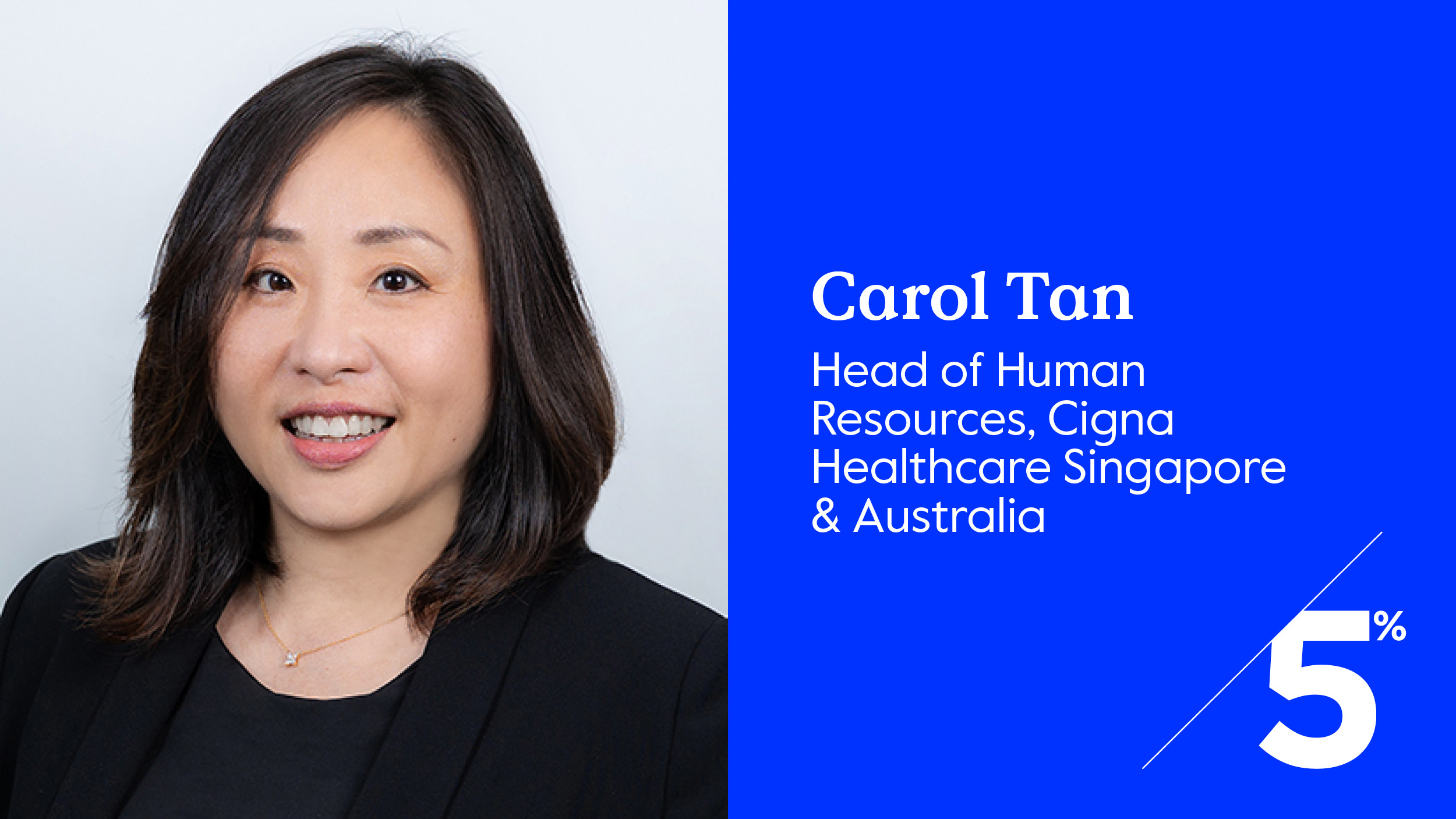 At Cigna Healthcare Singapore, employee well-being is our priority. We understand the importance of improving mental health in the workplace to better support the needs of our staff. The Singapore Senior Leadership Team has taken the 5% Pledge, and this is one of the many initiatives that we have put together to ensure that employees have downtime to centre themselves and focus on their mental well-being.
Prioritising mental health and Whole Health support is not a 'tick box' exercise. It's also not about the number of activities and initiatives we offer - what will move the dial is making it a consideration in every aspect of our work activity. It should be approached with thoughtfulness and care.
Cigna Healthcare Singapore has recently introduced a quarterly Duvet Day, time off that every colleague is eligible for to ensure that they get regular breaks throughout the year to clear their minds and focus on themselves. This initiative was born out of a review conducted by the Senior Leadership Team, using allotted time under the 5% Pledge. The feedback we received from colleagues was that they are happy with this new arrangement and consider it a generous move by the company.
Along with the launch of Duvet Day, a list of business etiquette tips has been shared with employees to encourage them to be more considerate of one another's time and workload. We should all work together to make Cigna Healthcare a positive workplace. It doesn't start and end with management, it involves everyone, and it needs to be woven into the fabric of our workplace and working etiquette. Senior leaders and our HR professionals all play a role in promoting and facilitating opportunities to de-stigmatize mental wellness issues and to identify potential pressure points and proactively address them before they become an issue.
Through these initiatives, and our regular communications and reminders, we hope that employees can see that Cigna Healthcare 'walks the walk' and we hope that they feel valued and cared for. We want our employees to have an enriching and fulfilling employee journey with us and learn how to care about their physical and mental health.
We can sense the excitement from the team in helping us drive the message across and it is very reassuring. We hope to continue encouraging more individuals and external stakeholders to join the movement. If we can inspire more people to come onboard, not only can we work towards reducing the stigma surrounding mental health, but also implement actionable changes and support mechanisms for workplace mental health that can make a real difference.
As we work towards actively shaping the future of mental well-being in the workplace, we hope to bring out the best in our employees and foster a thriving workplace where our staff feel supported and inspired to do their best every day.
Livia Mensah, Head of Health Propositions, Cigna Healthcare Europe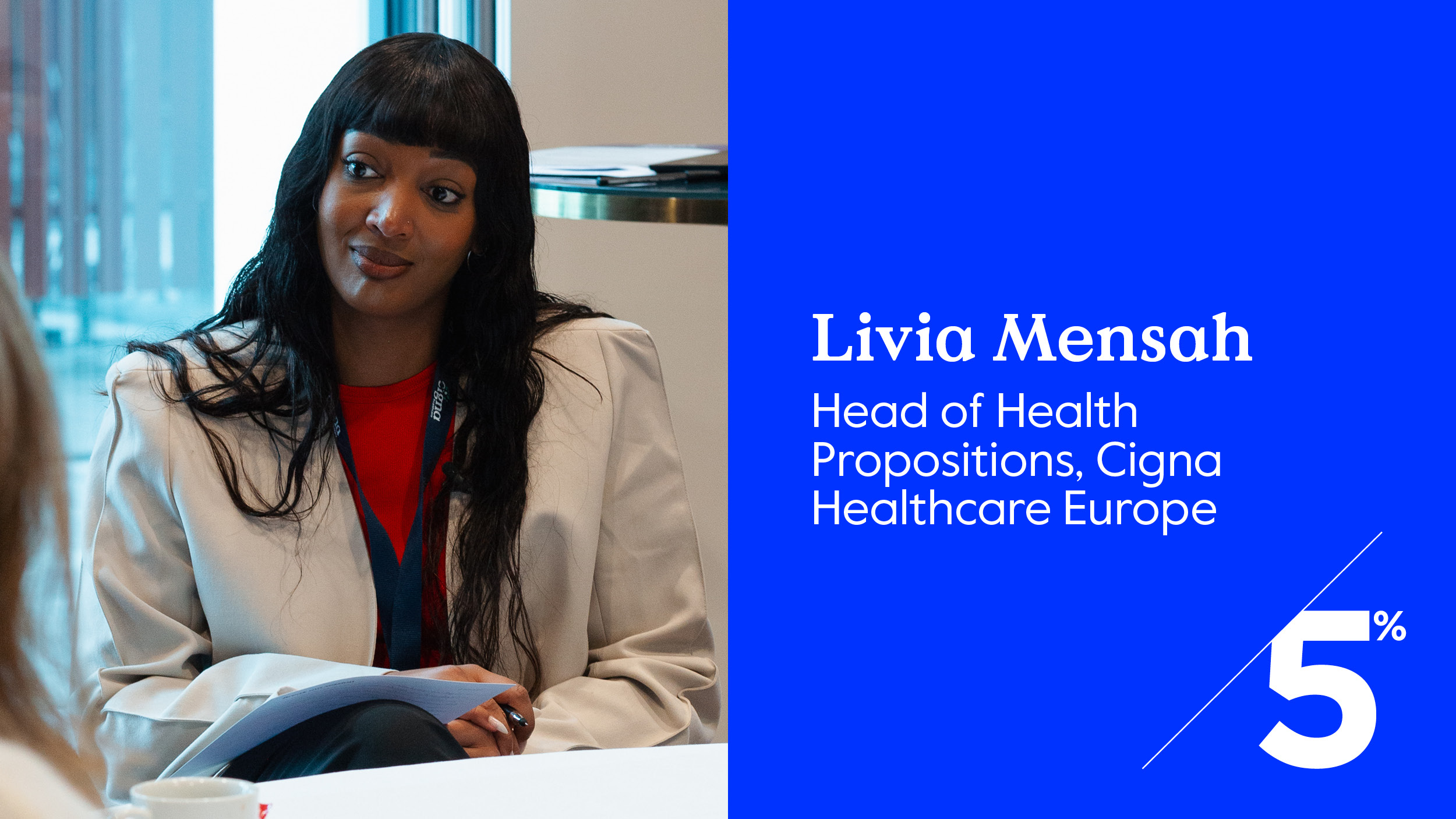 In the modern-day workforce, managers and their teams need to draw upon multiple skills to effectively deal with everyday challenges. As part of the 5% Pledge, Cigna Healthcare Europe aims to redefine our relationship with all employees and shape a new future of mental well-being.
We have set out a clear framework to support mental health across our business, centred around diversity, equity, and inclusion, with the following objectives:
· Leadership commitment
· Supportive workplaces
· Sustainable ways of working
· Collective responsibility
We have evolved a mental health plan based on the principles of work-life balance, flexibility and autonomy, resources and capacity, and connection.
Resilience levels and coping mechanisms vary from person to person, and what causes stress for one co-worker could have a completely different outcome for another. However, with the right learning tools and resources, everyone in the team can be better equipped to self-manage their stress. We currently have a comprehensive offering of multiple services, as different people have different preferences. These include IEAP, telephonic wellness coaching, CBT, and global telehealth.
We've also been running a campaign, 5% Pledge: Small Actions, Big Start, designed to inspire each other towards better health and wellness. Colleagues have been sharing photographs of activities they take part in to maintain and improve their well-being. Submissions have included examples of physical and social pastimes, volunteering activities and mindfulness practices, which are uploaded to our intranet. The campaign is designed to create enthusiasm, engagement and team spirit in working towards the objective of inspiring health and well-being among our colleagues and peers.
As part of the wider HR strategy for manager training, we offer training sessions tailored to equip managers (and a selection of committed employees) with a Mental Health First Aid Certification and the knowledge and skills to better support employees who disclose (or show signs of) requiring a "CPR" in their mental health.
Pauline Kwan, Regional Head of Human Resources APAC, Cigna Healthcare Hong Kong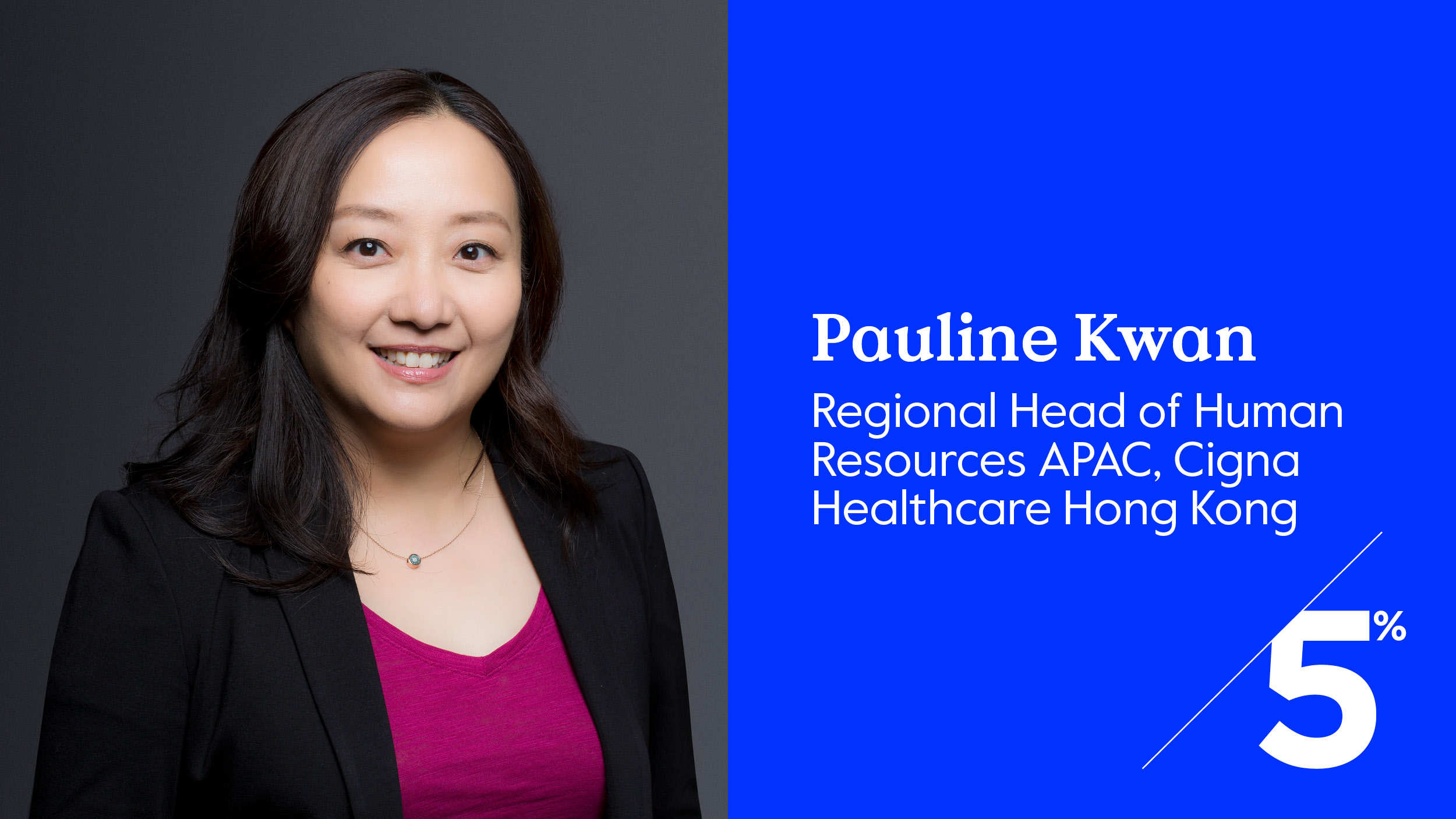 In Hong Kong, we have taken various measures to communicate the 5% Pledge commitment internally. During company-wide meetings and presentations, such as Townhalls and meetings for senior managers 'Executive Steering Committee', we make sure to cascade the 5% Pledge message.
We've also launched an internal communications campaign, which includes emails, internal newsletters, and Workplace posts, to provide regular updates on activities related to staff engagement. The leadership team and people managers make sure to share their values within their teams.
As part of the 5% Pledge initiative, Cigna Healthcare Hong Kong has launched several wellness activities to help colleagues improve mental health in the workplace such as yoga, pilates classes and even massage sessions. These activities encourage employees to take some time for themselves every day to relax and de-stress.
We also hosted a number of regular activities, including 'fruit Mondays' every other week, a 'food from around the world' afternoon tea every other Thursday, and a Nintendo Switch tournament where teams are able to bond and compete against other teams. Introduced in February, these activities are proving to be a great way for the team to get together and spend some time away from their desks.
Our Hong Kong team has also introduced a 'Fun Corner' at the office – a dedicated space where colleagues can meet and play games. The space features party games and board games as well as the office's existing ping-pong table, treadmill, and massage chairs. The Fun Corner has been well-received by our colleagues.
I'm delighted to say that our managers have been highly supportive of the Pledge commitment. They have actively participated in the activities and initiatives, and have shown a strong commitment to improving staff engagement across Cigna Healthcare.
Managers have also implemented various initiatives such as regular check-ins with team members, reduced meetings on Fridays, and regularly encourage employees to take breaks during office hours.
We hope that the Pledge will have a positive impact on the overall well-being of our employees, and we are committed to providing a healthy and supportive work environment for our staff.
We will continue to roll out wellness activities and ensure that all employees are aware of the commitment. We will be collecting feedback and monitoring progress to ensure that we are meeting our goals.
At the time of writing, Cigna Healthcare has 306 managers who have taken the Pledge, with more joining every day - encouraged by colleagues who have taken the Pledge and nominating them to do the same via social media.