The Cigna Wellbeing Team invites International Markets' clinical leadership to meet quarterly at the Wellbeing Insights Forum. The second Forum of 2020 took place on Thursday 4th June, and for the first time was conducted completely remotely, with attendees connecting from all corners of the world.
Participants included guest expert, Chief Medical Officer, Dr. Doug Nemecek, as well as medical directors Peter Mills, Lior Baruch, Sunitha Suresh, Inge Schrever, and Victor Fernández, and members of various client management and marketing departments across Cigna. It was the best turnout yet, and the Wellbeing team are excited to see the event grow with each edition.
Dr. Stuart Lustig opened the event with his presentation on loneliness and stress, during which he analysed the negative impact they can have on individuals and businesses – both in COVID-19 times and otherwise – and how alterations to workplace culture can help alleviate the issues. His presentation included findings from the 2018 U.S. Loneliness Index and the 2020 Loneliness in the Workplace report.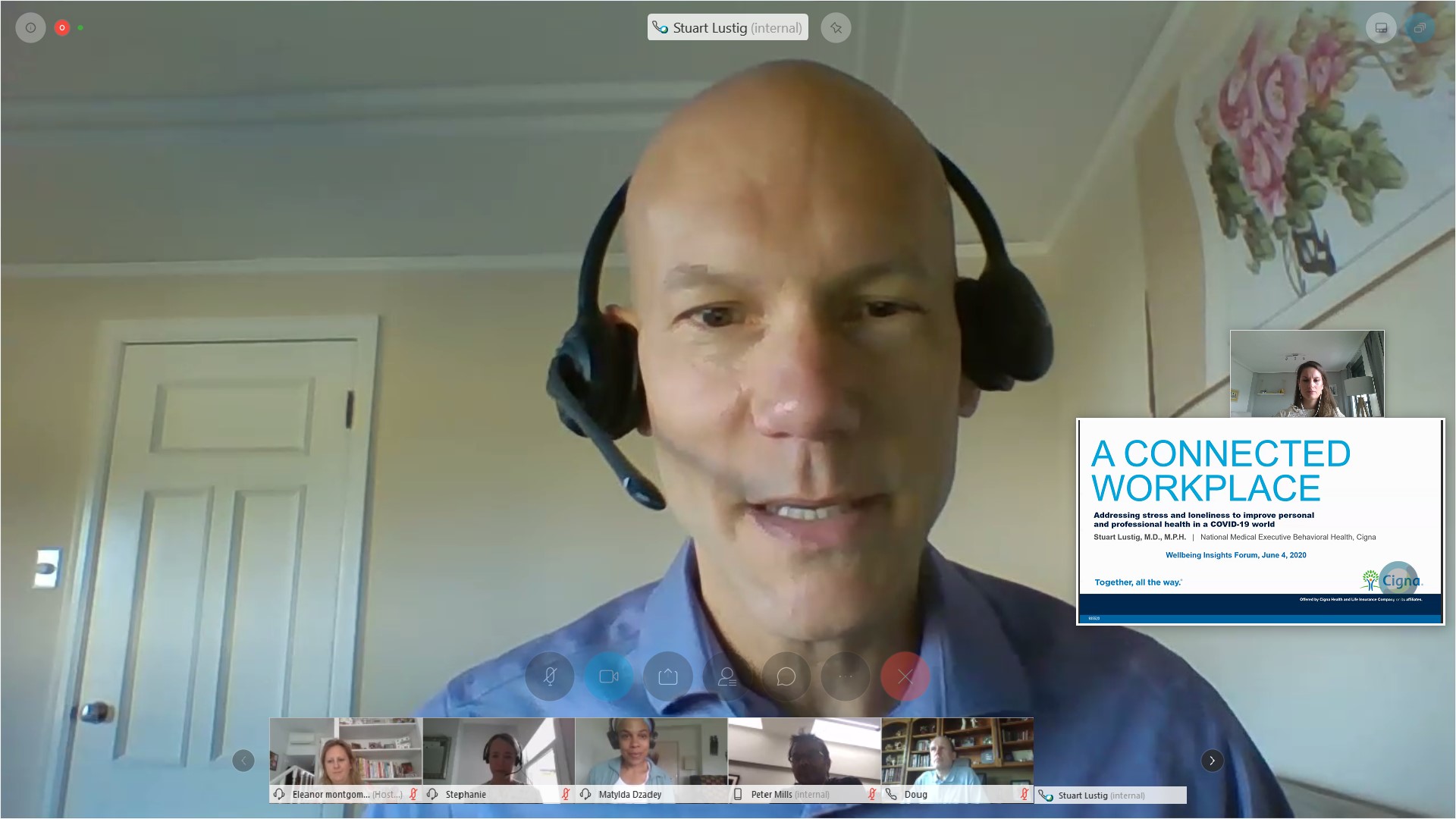 Following the presentation, the attendees offered their thoughts, asked questions, and responded to the information they had heard. Dr. Lustig and Dr. Nemecek both offered insight into the topic. The event was an opportunity to bring medical experts and thought leaders together within Cigna, and offered a platform in which to share opinions, ideas, and conclusions on what is a very prevalent, pressing topic.
Key facts presented in the forum included:
Loneliness can be as damaging to health as smoking 15 cigarettes a day.
Contrary to popular belief, older generations are the least lonely, whereas Gen Z (age 18-22 years) is the loneliest age group.
Those who said they used social media too much also reported higher rates of loneliness.
People with higher incomes have lower loneliness scores than those with lower incomes.
A reported 61% of workers say they are lonely.
Workers who are lonely are more likely to have lower productivity, report increased absence, and produce lower quality work.
Employers can play an active role in reducing worker loneliness by enabling the work environment and culture to foster connected workplaces.
For more information on the Wellbeing Insights Forum, please contact engagement@cigna.com.