Charles Razimbaud moved to study in Scotland in 2009. After moving around a bit after university and stops in Texas, Madrid, Lille and Southampton, he returned to living in Scotland in 2019.
This is his expat story.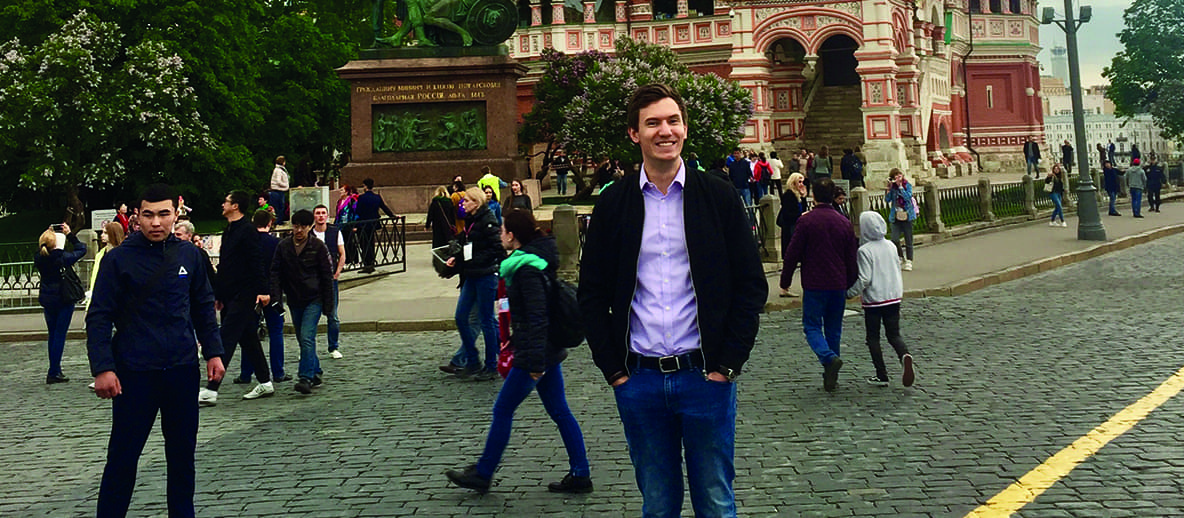 Tell us about your expat move.
My expat journey started 11 years ago when I was trying to decide where to study at University. I was looking for an adventure that would push me out of my comfort zone, and I fell in love with Scotland on my first visit. My friends thought I was crazy for trading Mediterranean weather for rainy Glasgow but I loved how welcoming and friendly the city felt.
I was lucky to grow up with bilingual parents so while the language wasn't a challenge, adapting to the accent and Scottish culture took a wee while! I studied International Business and Spanish to expand my horizons and language skills further and this led to a period in which I lived in 5 countries over 5 years!
I spent the first year of my Master's degree in Madrid, then moved to Houston, Texas, for an internship through the Saltire foundation, and returned to Glasgow for a year to finish my studies. I then started my career in product management with an international retailer which moved me to Lille in the north and France and then Southampton in England. It also introduced me to global sourcing and enabled me to explore the Far East amongst many places!
The latest chapter of my journey has been slightly more settled and after 4 years in England, my fiancée and I have moved back to Glasgow to be closer to her family.
What did you find were the best ways of making friends as an expat abroad?
Finding other people with the same hobbies and interests is usually a good way to make friends. For me, this has usually been through sport and finding a local handball club. In Glasgow, this has also been a great way to meet a community of French people as well as a mix of European nationals.
I have also found that if you make an effort to immerse yourself in local culture, people will usually be really receptive and willing to chat with you and share their local knowledge!
What have been some of the biggest highlights from your expat journey so far?
I've enjoyed how often unpredictable the journey has been and how the people I have met along the way have led to new opportunities and adventures. Without moving abroad, I would have never met my future wife!
Feeling integrated in a new place has also brought some huge highs. I'll never forget the first time I made people laugh (with me, not at me) in Spanish!
What do you miss about your home country?
The cheese, the wine, and more cheese! There are many things I miss about France but I especially miss the food. Supermarkets in the UK are slowly starting to get wider and more diverse ranges but accessing good bread and cheese always feels like a luxury!
How much do you enjoy your role in Cigna?
I joined Cigna 7 months ago and I love it! The company culture is very welcoming and collaborative which facilitated settling into work. There is a good mix of nationalities around the office and a lot of people have had expat experiences which made it easy to find common ground and make friends at work. Moving country and discovering a new industry at the same time was quite stressful so being able to settle into work quickly really helped!
There is a real sense of purpose within the product and marketing teams and we are all driven by the same mission of helping to improve the health, wellbeing and peace of mind of our customers. I think I have joined IPMI at a really exciting time and I'm looking forward to seeing how customers will react to the new products we will be launching this year!
What advice would you give to those who are considering making an expat move?
Go ahead and do it! Whether you decide to stay abroad or come home later, you will always thank yourself for the experience. You will learn a lot about yourself along the way and you'll never view the world in the same way again.
What would be the one piece of advice you wish you'd known before moving?
Admin pain is temporary!
Finally, how would you describe your expat journey in 10 words or less?
The best decision I have ever made.
Expat Stories